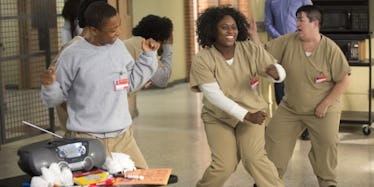 Your Guide To All The Songs Featured In 'Orange Is The New Black' Season 5
Netflix
One of the best things about each new season of Orange Is the New Black is they all come with a masterfully orchestrated soundtrack.
As the action fades to black (or... actually orange) at the end of each episode, viewers can rest assured a song that perfectly captures the tone of the episode will start playing.
Although it's centered around a prison riot, the newly released fifth season is actually a lot more fun and less dark overall than the particularly tragic season that came before it. And that fun is reflected in a lot of the song choices, as bright, cheery tunes by the likes of Sylvan Esso and The Monkees filter in over the credits.
And true to the show's adherence to diversity, its soundtrack for the new season varies wildly from episode to episode. One episode can end with a '60s throwback to Little Peggy March, and then another will start blasting a current rap song by Saul Williams.
And of course, there's some international flair with the inclusion of Russian act Mumiy Troll wrapping up Red's big episode and Swedish jazz act Miss Li.
Below I've listed all the songs that play over the credits in Season 5 of Orange Is the New Black. Happy listening!
Episode 1
Hey Mami" by Sylvan Esso
Episode 2
"Pictures" by System of a Down
Episode 3
"Hey Joe" by Patti Smith
Episode 4
"I Wish I Were A Princess" by Little Peggy March
Episode 5
A cover of "Dreamgirls" from the musical Dreamgirls, a snippet of which was performed earlier in the episode.
Episode 6
"List of Demands (Reparations)" by Saul Williams
Episode 7
"Daydream Believer" by The Monkees
Episode 8
"Especially Me" by Low
Episode 9
"California Dreaming" by Mumiy Troll
Episode 10
"Take 'Em Down" by Whissell
Episode 11
"Under the Wild Skies" by Luisa
Episode 12
"My Heart Goes Boom" by Miss Li
Episode 13
"To Build A Home" by The Cinematic Orchestra