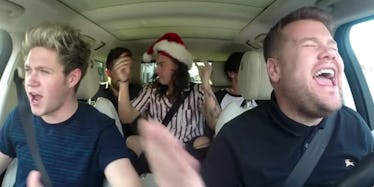 One Direction And Justin Bieber Singing 'Joy To The World' Is Everything (Video)
Youtube
Joy to the world, James Corden's SUV full of celebrities has come.
If you aren't in the holiday spirit yet, this mashup of celebrities karaoke-ing to "Joy to the World" in James Corden's car will get you there faster than you can say, "How is Jimmy Fallon still on air?"
Iggy Azalea raps, Stevie Wonder belts and Jason Derulo does one of those harmony things at the end where you move your hand up and down like a sound monitor while you make an "OOOOOoooooOOOOOOooooOOOOoooooo" tone that sounds like audio cashmere.
Justin Bieber, One Direction and Reggie Watts round out this holly jolly, must-see, soon-to-be viral video. Honestly, what else could you ask Santa for this year than that?
Happy Web-friendly, shareable content holiday, everybody!