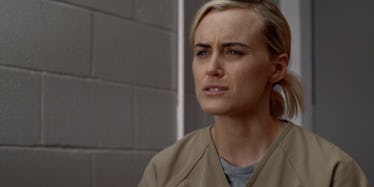 I Binge-Watched 'OITNB' Season 4 at 3 AM And I Don't Know Who I Am Anymore
Netflix
When the first season of "Orange Is the New Black" premiered on Netflix, I had been in China for about three months. If there was any promotion for the show leading up to its release, I missed it.
After work one sweaty July day, I sat down in front of the one computer in the apartment that had access to Netflix and started watching the pilot. It was engrossing AF, and as my friends made their way home one by one, we all ended up slack-jawed on the couch watching a show we called "Lady Prison" straight through to its season finale.
With season four now streaming, I took it upon myself to binge every episode, in the tradition of season one, from the moment it became available.
WARNING: There are SPOILERS ahead. I did leave out the major details though, for those of you who want a little spoiler fun without having the entire season totally ruined.
Episode 1, 3:16 am
Yaaas Regina Spektor!!! Here we go! Opening credits getting me in the mood for some raw prison drama!
We're kicking things off with a little throat-stomping. The real star, though, is everyone's hair.
Quick updates:
Crazy Eyes has clearly found a romantic situation that works for her, though it seems like it may cause problems down the line.
Actually, it's episode one, so I'm just going to assume any brief moment of beauty will eventually cause problems down the line.
Overcrowding is threatening Litchfield, but Big Boo is optimistic re: fuckin'.
Morello is married, duh. No one cares, though : /
Piper is complaining about her own petty shit already, right on schedule.
WOAH, OK, FIRST SPOILER:
Laura Prepon is going to have to do, like, endless auditing sessions at the Church of Scientology for committing murder IN prison. Or, wait, maybe Xenu is majorly down with that.
Episode 2, 4:10 am
Hi, hello, I'm here and I'm ready for some flashbacks.
Cindy is going by Tovah now, ICYMI last season.
Ugh, I don't want to watch a prison-wide MEETING.
FLASHBACK! FLASHBACK! WE WANT A FLASHB— Oh. Nice. A Maria flashback.
Growing up, Maria's dad covered their walls in machetes, so that's a fun DIY design tip for anyone looking to add a personal touch to their home.
I'm just going to go ahead and say what everyone is thinking: Too much of this episode is devoted to snoring. I just cannot access any passion for this issue. It is so low-stakes I started cooking potatoes less than halfway through.
NOOOO FLASHBACK MARIA! DO NOT TRUST A SENSITIVE MAN WITH A HOT MOUTH!!!
Whenever these ladies find love in flashbacks and can't hear me SCREAMING at them not to trust it. #OITNB pic.twitter.com/Yu6oNA2JzR — Taylor Ortega (@taylor_ortega) June 17, 2016
Mmkay, yeah, we're dealing with some racial themes, primarily the concept that one can be racist without privilege.
One time, a family member explained to me how my great grandfather used to get upset if people mistook him for Mexican because he was "so proud of being Spanish," but it was probably just that he was racist against Mexicans, TBH. Sorry, Mexico. If it's any consolation, he is super dead now.
OMG ARE POUSSEY AND SOSO GOING TO FALL DEEPLY IN LOVE?
The idea of two v. gorgeous pixies gazing into each others' eyes and promising one another a lifetime of happiness is enchanting, but love is hard enough in a flashback. I can't imagine it's easier in an overcrowded prison.
Episode 3, 5:14 am
OH MY GOD, PIPER, SHUT UP.
Annnnnd Soso's ignorance, which knows no bounds, has obliterated her relationship with Poussey after only one episode in lurve.
Morello is having no-touch sex with her new husband across a formica table while a room full of inmates and their visiting family members listen and try not to look. I hope this clip is selected to play during the Best Supporting noms at the Emmys.
Poussey and Soso are back on. They really are the Gigi and Zayn of this place.
Alex's issues this season are unbelievably frenzied right off the bat — just blood and guts and paranoia — while Red's are, "That rich lady keeps eating my corn, WTF?"
We need to more evenly distribute the DRAMAHHH, MAMAS.
Episode 4, 6:20 am
Sophia. Is. In. Play.
We're also learning what we already knew: Healy's childhood was like an episode of "Mad Men" that follows none of the sex or ad agency brilliance and instead just casts a spotlight on Betty Draper's slow descent into insanity.
Can we revisit that Sophia tease from the opening, please? The action is getting dry both literally and figuratively, AKA I just caught myself drooling with one eye asleep. That's lost time. I have to go back and re-watch now.
The corn-stealing, celebrity inmate is slowly becoming Litchfield's Ina Garten and OH, WHAT'S THAT? I'M CATATONICALLY DROOLING AGAIN?!
Hold up -- I take it all back.
Pennsatucky, man. My heart and my eyeballs are invested.
Episode 5, 7:40 am
Another flashback. Another hot man. Another spiral of sorrow.
All this time spent on Red, Piper, Alex and Morello needs to be redirected to Sophia, Nicki, Pennsatucky and, most importantly, Crazy Eyes. I could watch Uzo Aduba eat cereal in silence and feel like I got my $7.99-worth.
Are you kidding me? Crazy Eyes' plot line is just going to be her casually sussing out whoever pooped in the shower??? THAT IS A WASTE OF UZO'S TALENT AND IT. WILL. NOT. STAND.
Oh, here's a fun development: Piper's just inadvertently started a White Lives Matter prison gang.
I'M SO BORED. FUCK IT, BRING BACK THE CORN COB DRAMA.
Episode 6, 9:00 am
Finallllllllyyyyyyyyyyyyyuhhhh.
Guess we're cutting that story short to focus on the borderline nonexistent romance between Alex and Piper. So, cool. Great.
Oh brother, Red can't sleep because of her snoring roommate!
I AM TRAPPED IN A PRISON OF SQUANDERED TALENT.
Woah, woah, woah, woah, woah, woah, woah, woah, woah.
Spoiler time is upon us once again:
Is Sophia dead?!?!??
I WILL RAGE.
(To the show's credit, this is the first time I've audibly gasped so far this season.)
Episode 7, 10:20 am
I'm ordering a salad, because logically I understand it's not even 10:30, but I can't really get the rest of myself on board with the concept of time.
Daya and her mom are arguing over the GED onscreen as the smell of burning hair floats in through my living room window IRL.
I'm nervous about it, but life is ultimately pointless, right? We're all just waiting to die, be it from boredom or disappointment or a sentient pile of burning hair that eats you alive.
Lolly's backstory is touchingly tragic and along the lines of the true masterpieces of Season 2.
Oop, looks like we're back to the poop mystery. Are we ever going to address what happened to Sophia or…?
I already finished my salad and this episode is still happening.
This prison cannot have one party without someone using the festivities to distract from some violent revenge plot. I guess you have to take the opportunities you're given in life.
Episode 8, 11:15 am
At this point, it kind of seems like there's no way this season is going to be able to hold my foc— EVERYBODY SHUT UP. SHUT UP RIGHT THIS SECOND.
SPOILER ALERT NUMBER THREE, BOYS AND GIRLS:
That's crack cuh-caine.
I have no clue what's going on anymore.
Episode 9, 12:23 pm
I haven't slept in so, so, so long and many a still from this ep is capturing my current mood.
Episode 10, 1:31 pm
This guard is not always the quickest mouse to the cheese, but she gets the big stuff right, making her far and away the smartest guard of the show's run.
Watching everyone dig holes is getting tedious and there's still not enough of Crazy Eyes' brilliant rants, but I just want to get through this and shower, frankly.
There are three episodes left. Shouldn't there be some intense, rising action?
I'm gonna see if I can get my hair to go up in little buns while I wait for the shit to hit the fan.
Well, there's bad news and there's bad news:
The bad news is, Crazy Eyes is getting some screen time, but her love life remains a huge bummer.
The rest of the bad news is, I can't get my hair in any buns.
Oh my gosh!!! Shit! Fan! Shit! Fan!!!
Spoiler four: The body stumps from Alex's in-house murder from S4E1 are litch-rully being dug up as we speak (or write, or read, or whatever).
We are on the right track but I need MORE. GIVE ME THE DAH-RAH-MAHHHHHH!!!!!!!!!!
Episode 11, 2:31 pm
Three episodes. Three episodes. Three episodes.
Oh HELL yes. A Crazy Eyes flashback.
Orange juice, toothpaste, AR-15 assault rifle... looks good! Thank you! Have a nice day!
I draw the line at spoiling Crazy Eyes' origin story. We've all waited too long for this.
Holy crap on a crumb cake. So. Much. Happening.
All season it was Corn This and Poop That and now, in the 11th hour (approximately) everything is both beginning to heat up and coming to an explosive climax.
Episode 12, 3:35 pm
False alarm. Bored again.
A running theme this season is a seemingly endless wait for mere moments of action.
THIS IS WHAT WE CAME FOR! But also, stop, because this is stressful all of a sudden. Is anyone else crying? I've forgotten what sunshine looks like.
Episode 13, 4:40 pm
IT'S OVER, Y'ALL
Lessons learned: Prison is hard. Racism is shitty. Drugs are bad. Sometimes, television you've grown to love cannot get the timing right, but the actors you trust will never let you down.
GOODNIGHT, LITCHFIELD.