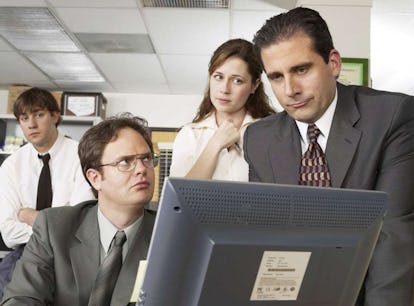 All Of Your Favorite Nostalgic Shows Have Podcasts Now
From The Office to Gossip Girl, classic comfort-watches are getting the audio treatment.
NBC
When Steve Jobs cleverly relabeled "radio programs" as "podcasts" and encouraged people to download episodes into their devices, he revitalized a genre of storytelling that was already a century old. Since then, podcast subjects have ranged from true crime to interview series. But the latest to gain popularity is celebrity-hosted nostalgic TV rewatch podcasts, on which the stars of popular TV series share their perspective as people who actually lived through the making of the shows fans love.
There are lots of rewatch podcasts out there. Some are hosted by TV critics, like Too Long; Didn't Watch, on which each episode a celebrity guest watches a series they missed the first time round, or The Storm, on which culture writers strictly rewatch Lost.
Some celebrity-hosted "rewatch" podcasts are less about the show and more of an excuse for old friends to get together and talk. Fake Doctors, Real Friends, for example, is supposedly a rewatch of Scrubs, but it's really just Zach Braff and Donald Faison being entertaining for an hour. (To be fair, they are entertaining! And sometimes they actually watch the show.)But some are very serious about the rewatch portion, and the in-depth discussions are almost better than watching the show itself. Here is a selection of some of the best options out there.