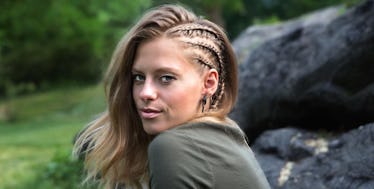 Here Are 21 Things You Didn't Know About Deep House DJ Nora En Pure
Nora En Pure
Though she's been producing deep house beats since 2011, South African-born musician Nora En Pure has been permeating the DJ scene over the last few years, with massive club bangers like "Come With Me" and "U Got My Body."
This year, though a scheduling conflict ultimately got in the way, she received an invitation to play for music's most highly-anticipated festival, Coachella, where she would showcase her latest masterpiece, Saltwater.
Since festival-goers missed out on the chance to feel the Switzerland-based DJ's beats live, Elite Daily jumped at the opportunity to get to know the woman behind the new-school wave of house music.
Here are 21 questions with Nora En Pure.
How did you first get started in the music industry?
I got in touch with electronic music when I met some friends who had their own studios -- that was around 2008. Given that I've always been passionate about music, playing instruments and singing myself, I was fascinated by how creative you can be with electronic music. Working on things on your own, whenever you want; being in a studio creating music felt comfortable. There is no direct judgement, and you can try out whatever you want. Of course, that changes when you gain some following, but the first couple of years, there was nobody interested in my music!
What was the most pivotal moment for you in your career? How about in your personal life?
In my career, I had many little steps rather than one moment that changed everything. I think a pivotal point was the release of "Come With Me" back in 2013, as it definitely gave me more exposure and lead to some solid booking requests. From then on, it was still a lot of work and it still is – every day! But there are many steps into the right direction and I'm happy to see that. It's been an awesome journey so far!
Was there a moment you realized, this is who I am, this is who I want to be, and this is what I'm going to do to get there?
No… never. I don't identify myself over my career. I do music because I love it. But it could always be that one day, nobody is interested in you anymore, and from a job, it could go back to just being a hobby again. I also don't want to force anything, I'm pretty chilled and take things as they come, and enjoy it as much as I can while it's going so well!
Being that this is such a competitive industry, specifically for DJs, what is your ultimate career goal?
Rather than focusing on career goals, I would rather focus on seeing people happy in the audience during my sets. Often, people write to me that my music has helped them through difficult times in their lives. This is one of the biggest paybacks for all the hard work, as it goes to show that my tracks are touching people and having an impact on their lives. The big moments – such as being invited to play at Coachella this year – are simply incredible and also mean a lot to me.
What's the first thing you think about when you wake up in the morning and go to bed at night?
Family.
Is [that] your biggest motivator?
Well, it's sometimes difficult to balance my job and my family, as it requires a lot of travelling and being away on weekends where social gatherings would normally happen. Having the support of my closest ones is what motivates me a lot, and coming home to them after being away for shows is just the best feeling in the world!
Much of our audience is made up of young adults, most who are trying to identify their passions, develop confidence in those trades and stake their claim in an increasingly competitive culture. Is this something you can relate to?
I guess so. I always felt I knew exactly what I wanted but had to realize also after some time that this still changes. I'm not really on a search. I know my passions, I know what makes me happy and I have valuable and reliable people around me – that's all I need or want for now!
What advice would you offer young women who are trying to break into the music industry and feeling discouraged?
Make it about your music, about your passion. Not about superficial traits…
Can you recall a time when you felt isolated in your journey and how you overcame that?
Yes, sometimes. When I started touring more and more, I had to get used to being away from my social environment. Most people around me have jobs Monday to Friday 8 am - 5 pm; therefore, they can't just join me and fly with me around the world. When I come back from touring, I often feel like I just need quiet time to relax… so that was a change I had to get used to, but it's about adjusting yourself to new situations and reminding yourself to see the positives as much as possible.
Up to this point, can you identify a time when you actually felt at a disadvantage as a female in the industry? Can you describe how you overcame that?
I feel really lucky, as I have never even perceived that. If you are in the industry for your music and you respect other artists for their music, nothing else should matter. Whether you are male or female should not be a factor.
How has your current success impacted your mindset as you move further into your career and continue establishing a name for yourself?
As mentioned before, I try to never take anything for granted. It's nice to reach more and more people with my music, but that's all it should be about. It should not be about the name or the brand.
What gets you back on your feet when you hit a rough patch?
The music itself and my family. I am quite sensitive, and if something bugs me, I can think about it for a very long time. The only thing to distract me then is either diving into the music or being surrounded by my close people.
Is there a project you're most proud of to date? A project or collaboration you're most looking forward to getting the chance to work on?
Recently, I did a remix for Faithless' "I Was There." It was a real honor for me to work with one of their songs, and I am very proud of the result.
Text message or phone call? How many group chats do you have popping off on your phone every day? Who's in them?
For my closest ones phone call, everyone else text message. I have three important group chats and that's one for family, one for close friends and one for work!
Go-to music streaming platform? Who are you currently listening to? Last concert you went to?
I'm very used to SoundCloud. I prefer silence after touring. The last concerts I was at were Miami Music Week shows – but I'm planning to go to a Hans Zimmer concert soon!
Coffee or tea? Favorite breakfast spot in LA? NYC?
Tea. I usually miss the breakfast slot… For dinner, I like Tao in NYC; [in] LA, I normally try to find a nice authentic Thai place.
Bar or club? Who's your most reliable wing(wo)man? Favorite bar/club in LA? NYC?
Club, for sure! Favorite club in LA must be Sound or Exchange. I love to play in NY as well, but the best shows there so far were actually at festivals, like Mysteryland last year.
Staying in or going out? Go-to dinner on a night in? 
Staying in! I love dinner at home as I'm lazy… but also a good restaurant is nice.
Los Angeles or NYC? Favorite city to visit outside of the two hubs?
I like San Francisco also. Outside of the US, I love Vancouver. I could really imagine living there.
Dogs or cats? 
Dogs. I have a Jack Russell! She never gets tired :-P
Favorite thing to do with your squad? 
I love food, so certainly it would involve having a great dinner. I don't really like to be alone. I use my time alone to catch up with work or when I'm home I go for a walk with my dog.