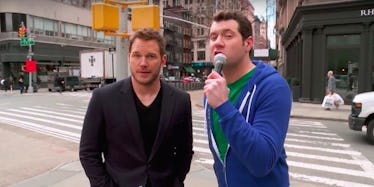 Chris Pratt Goes Up To People On The Street And No One Knows Who He Is (Video)
Chris Pratt is very famous… everywhere other than the largest city in America.
Years after sharing the spotlight on NBC's "Parks and Recreation," the TV-turned-movie star reunited with Billy Eichner for an episode of "Billy On The Street," and the pair set out to see how many New Yorkers knew who the damn hell Chris Pratt was.
In a clip from the show, passersby are beyond psyched to meet Chris… Evans? No, wait. Oh, well. Tourists jumped with glee to discover they stumbled upon dreamy leading man… Josh Duhamel? Hold on. Nope.
Even when one woman finally recognized Pratt for who he truly is, his wife, Anna Faris, ended up getting the praise.
Sorry, Chris. Maybe after two more "Jurassic World" sequels your name will be remembered in the city that never watches summer blockbusters.
Citations: Chris Pratt Gets Mixed Reactions When He's Introduced to Strangers on the Street (POPSUGAR)