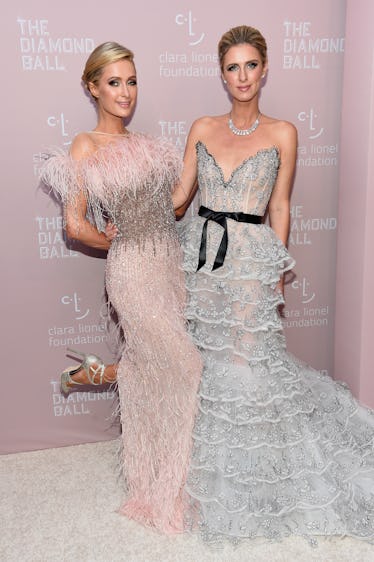 Nicky Hilton Channeled Sister Paris With This Iconic Throwback Halloween Costume
Dimitrios Kambouris/Getty Images Entertainment/Getty Images
Amidst all the ghosts and ghouls that come out to play for Halloween, the spookiest night of the year is also the perfect time to pay homage to the best looks of yesterday, including the iconic party ensemble that still holds up today: the bedazzled, plunging minidress that Paris Hilton rocked to perfection back in 2002. If you were a fan of Kendall Jenner's spin on the look, you're going to have all the ~feels~ when you see Nicky Hilton's Halloween costume as Paris' 21st birthday look. It's the best tribute to her big sis, and the sweet throwback is giving me all the nostalgia to when rhinestone butterfly clips and crystal chokers were the ultimate accessory.
Before heading to the Casamigos Halloween party in Beverly Hills on Friday, Oct. 27, Nicky took to Instagram to reveal that she was channeling "PH vibes" that night with her choice of costume. Dressed in a sparkly minidress featuring chain straps and a plunging neckline, the hotel heiress called to mind another Hilton — her big sister Paris, who famously wore the rhinestoned ensemble to celebrate her 21st birthday. Set against the backdrop of her mansion, the nostalgia-inducing image is like the Kirakira app on steroids with all the sparkle and shine. Nicky's look mirrors Paris' OG outfit to perfection (albeit with a much less revealing look) with a chunky diamond choker and a matching wrist cuff, glitter-embossed pumps, and to top it all off, a tiara with the word "21" printed on the front. Unsurprisingly, considering the pair are from the same gene pool and all, Nicky completely nailed her homage to 2002.
The 35-year-old captioned her photo:
21 again tonight! 👸🏼✨✨✨PH vibes #HappyHalloween
The Simple Life star took to the Instagram comments section to deliver her signature stamp of approval, writing "That's hot" before re-sharing the image on her own account.
It's said that imitation is the ultimate form of flattery, and I can imagine Paris feeling honored that her younger sister decided to recreate her timeless look for the holiday.
Back when Kendall Jenner recreated Paris's 21st ensemble for her own birthday bash in 2016, Hilton opened up to Harper's Bazaar that December about being a style icon for a younger generation.
She told the publication, "[Kendall] was like, 'I saw the pictures of you and I was obsessed, it was so beautiful so I had another designer recreate it," referring to the $9,000 Swarovski-studded beauty that the model reportedly commissioned from Lebanese designer Antoine Salameh.
Paris said she was "flattered," comparing it to her own penchant for taking style cues from the Material Girl when she was growing up. "It's like when I was little, I wanted to copy Madonna and wear what she wore in the '80s, so the fact that I'm seeing these beautiful girls -- who are the new style icons right now -- reminds me of when I wanted to look like Madonna," she continued. "It's flattering."
Kendall's dazzling look was pretty memorable, but IMHO, Nicky Hilton's Halloween take on her sister's ensemble complete with a sparkling tiara just crowned her the queen of the entire holiday.