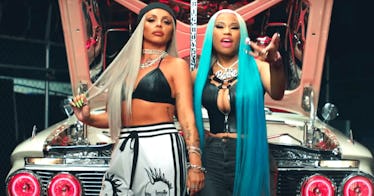 Nicki Defended Jesy Amid The Blackfishing Accusations And The Drama Is Now Messier
Youtube
Jesy Nelson and Nicki Minaj released their new collaboration titled "Boyz" on Oct. 8, and at first, fans thought it was the ultimate bop. However, after seeing the music video, which dropped the same day, fans quickly took to Twitter to criticize Nelson for Blackfishing, which is a term used to describe the phenomenon of non-Black influencers or public figures using tools like bronzer, tanning, cosmetic surgery or photo-editing to appear Black or mixed race. As Health points out, it was coined by hip-hop journalist Wanna Thompson. Following fan feedback, Nelson took to Instagram Live on Oct. 11 and said her intention was "never, ever to offend people of color." However, Nicki Minaj defended Nelson against accusations of Blackfishing — and her doing so had fans upset.
In the "Boyz" video, Nelson appeared especially tan as she stood next to Minaj, a Black woman. Twitter erupted after seeing her excessive tan, curly hair, gold chains, and grillz, and many accused her of Blackfishing. Following the drama, leaked messages surfaced in which Little Mix member Leigh-Anne Pinnock reportedly criticized Nelson's video.
On Oct. 11, Nelson and Minaj hopped on Instagram live to discuss the drama. "I personally want to say that my intention was never, ever to offend people of color with this video and my song because like I said, growing up as a young girl, this is the music that I listened to," Nelson said. "These are the videos that I watched and thought were the best. For me personally, '90s R&B were the best years in music. I just wanted to celebrate that. I just want to celebrate that era of music is what I love."
Nelson added, "My intention was never, ever, ever want to offend anyone and, genuinely, it actually does really hurt me that may have offended people and actually, like, hurt people's feelings just by genuinely celebrating something that I love." The same day the "Boyz" video dropped, Nelson told Vulture, "I love Black culture. I love Black music. That's all I know; it's what I grew up on. I'm very aware that I'm a white British woman; I've never said that I wasn't."
During the Oct. 11 Instagram Live, Minaj then went on to defend Nelson: "There's a lot of women out here in the United States that tan, get bigger lips ... I wear straight blonde hair when I want to."
Minaj then sounded off on Pinnock. "Take them text messages and shove it up your f*cking ass," she said. "Let her enjoy this time. If you was in this group and haven't talked about this sh*t for 10 years … If you want a solo career baby girl just say that … If that's how you felt, why were you kiking with her and being in videos with her for 10 years." So far, Pinnock has yet to publicly respond to Minaj's comments.
The "Boyz" video didn't mark the first time Nelson has been accused of Blackfishing. However, this instance is amplified as Nelson is now a solo artist. Nelson's former Little Mix bandmates have unfollowed her on Instagram in the aftermath of the Blackfishing scandal. Ahead of the "Boyz" release, Nelson told Glamour UK she and her former bandmates are not on speaking terms. As she embarks on her solo career, Nelson is on shaky ground.