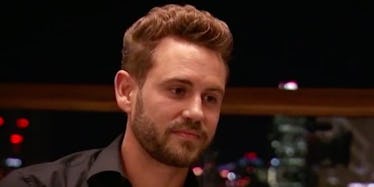 Nick Viall Admits He May Not Hand Out A Final Rose In New 'Bachelor' Promo
ABC
In case you needed another reason to hate Nick Viall, he might just ruin this entire season of "The Bachelor."
According to a new promo clip for this week's upcoming "Bachelor" episode, Nick's not even sure if he's going to hand out his final rose or not.
Oh, cool, glad I invested two hours of my life every week since January to this show then! Thanks a bunch, Nick!
In the promo, we get a tease of what happens after former Bachelorette Andi Dorfman showed up at Nick's door last week. (You know, the woman who dumped Nick in season 10 of "The Bachelorette.")
In the clip, Nick says to Andi,
This is blowing my mind. Super weird. Last time you knocked on my door, surprisingly, you broke up with me. You dumped me on national television.
Andi fires back with,
But now, you're dumping 29 girls.
That's a pretty fair point, and Nick seems to realize it. But then he just has to go and ruin everything by responding,
I know, maybe 30.
Ummmmmmm EXCUSE ME? WHAT?
Nick's really just going to waste all our time like that?
And let me guess — he's going to be a contestant on the next season of "The Bachelorette" with Rachel Lindsay, the very woman he's about to dump, right?
Because for whatever reason, ABC thinks we just can't get enough of Nick Viall. (Spoiler alert: We have gotten enough. More than enough. Way, way too much.)
Personally I'm still rooting for Corrine to win. What's more wife material than cheese pasta?
Anyway, if you're some kind of masochist, you can continue watching this pointless season of "The Bachelor" this Monday at 8 pm ET/PT on ABC.
Citations: Andi Dorfman Asks Nick Viall If He Regrets Infamous 'After the Final Rose' Bombshell in Tense 'Bachelor' Promo (Entertainment Tonight)