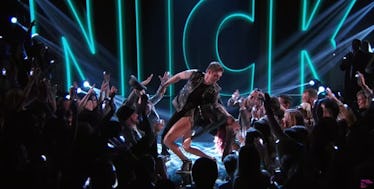 Nick Carter Danced To Backstreet Boys On 'DWTS' And Dreams Came True (Video)
When "Dancing with the Stars" asked contestants to perform dances packed full of nostalgia from their "most memorable year," Nick Carter chose 1992, the year he met his fellow Backstreet Boys.
The then-12-year-old was dealing with a tumultuous home environment when he attended an open call for the boy band.
During a tearful interview, Carter shared,
I came from a dysfunctional family. There was a lot of fighting in our household and it broke my heart, you know. I never could fix my family… It was hard for me. It was really hard… The [Backstreet Boys] saved me. They loved and treated me like a true brother.
But the boy bander was not alone. In his own interview, BSB AJ McLean added,
He was a very talented, extremely talented guy, but he had a pretty rough childhood… Most of his friends that he grew up with are either dead now or in jail... Nick used performing and the arts and music to kind of get him out of that environment.
McLean even lent time to help Carter and DWTS partner Sharna Burgess craft the perfect throwback dance to "Everybody (Backstreet's Back)."
The final product earned the duo a killer 27 out of 30 and served as a reminder to us all boy band brotherhood is a forever kind of love.
Citations: Backstreet's Back on Dancing with the Stars: Nick Carter Pays Tribute To The Backstreet Boys (E! Online)