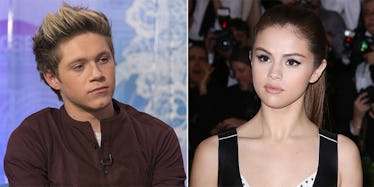 Niall Horan Just Can't Stop Snubbing His Ex Selena Gomez
REX/Shutterstock
Holy crap. The food on this table is straight-up repulsive, but the company?  Enchanting.
On Wednesday night's episode of "The Late Late Show," host James Corden joined Niall Horan, Isla Fisher and Ewan McGregor — essentially a table full of beautiful accents we'll all obnoxiously mimic to ourselves later while narrating the minutiae of our lives— for a segment called "Spill Your Guts or Fill Your Guts" that was equal parts revealing and stomach-churning.
The quartet split into two teams, Niall and Isla versus James and Ewan, and were forced to choose between either answering some very personal questions or eating one of the following eight repulsive snacks:
1. Bird saliva 2. Beef tongue 3. Salmon smoothie 4. Bull penis 5. Hot sauce 6. Fish head 7. Scorpion 8. Herring rollmop
This was, as you may have already ascertained, some "Fear Factor" type'a shit.
To avoid divulging the name of his least favorite member of One Direction, Niall opted to chug the salmon smoothie with Isla.
Perhaps the texture of the smoothie, which the 23-year-old described as more of a "salmon yogurt," persuaded him to forgo a big bite of beef tongue during his next turn when asked,
You've dated both Selena Gomez and Ellie Goulding. It's your last night on Earth. Out of the two of them, who would you rather spend it with?
Niall chose Ellie, but found a way to saddle "Planet Earth" writer/narrator David Attenborough with the responsibility of his selection.
He told the table,
Because it's the last night on Earth, Ellie is a big fan of 'Planet Earth' by David Attenborough, so I would sit and watch that with her. And, um, for that reason… Ellie Goulding.
Ouch, sorry Selena. Perhaps if your fascination for the natural wonders of our home planet was greater, you'd stand a better chance of being chosen over Ellie Goulding and a cold slab of cow tongue.
This isn't the first time another woman has stolen Selena's shine in the eyes of her ex.
During an appearance on "Ellen" earlier this week, the "This Town" singer selected beloved Hollywood mainstay and menswear enthusiast Diane Keaton over Selena during a game of "Would You Rather?"
Truth be told, no one can blame Niall for choosing Diane over Selena. Selena is amazing, but I would marry Diane Keaton for her reluctant-turned-passionate-and-perfectly-choreographed performance of "You Don't Own Me" in "The First Wives Club."
Still, the next round pitted Diane against Ellie and -- wouldn't you know it -- Niall chose Ellie.
Does the transitive property then suggest Niall chose Ellie over Selena twice on television for the world to... well, not see but then later watch on the internet and totally see?
Frankly this is too much math for such a low-stakes scenario. Let's just grab ourselves a hot bowl'a bull penis and call it a day.
Citations: James Corden Makes Niall Horan Choose Between Exes Selena Gomez and Ellie Golding in Gross-Out Game (ET)