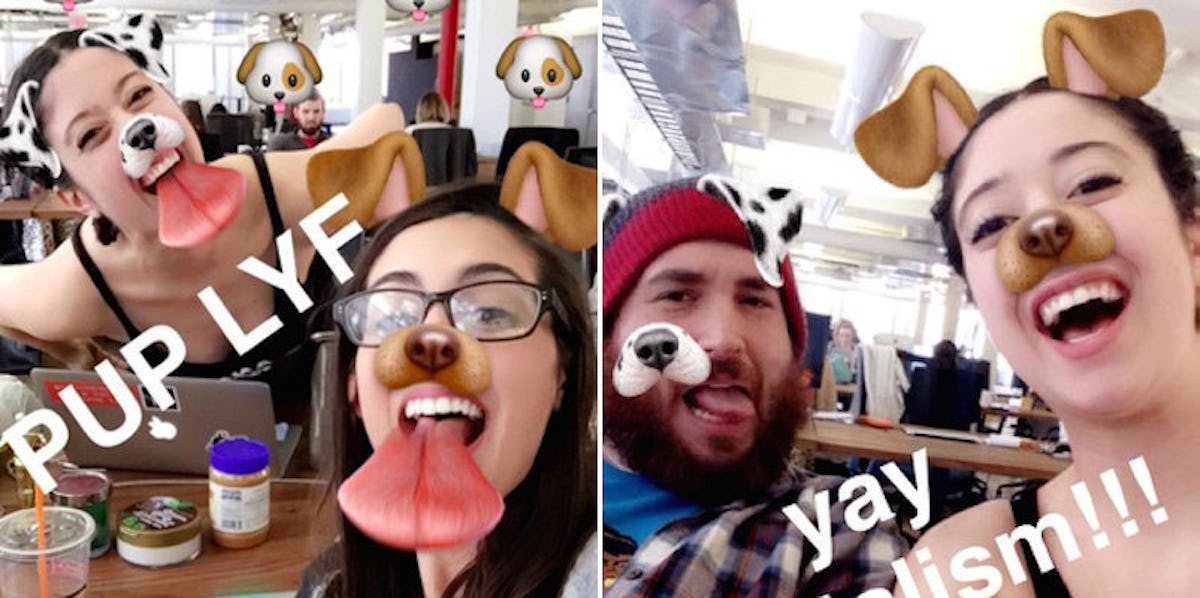 The New Snapchat Update Will Totally Change The Way You Use Filters
Taylor Ortega
Just when you thought you were over Snapchat and began to prep yourself for a return to the real, filterless world, an update to the app arrived to drag you back in.
That's right, you'll just have to find out what color your children's eyes are or whether your grandmother is still alive another time because today is all about DOUBLE PUPPIES!!! Thanks to Snapchat's latest update, a double dog filter is now a thing.
Thots, basics and plain ole dog lovers who lived for the original brown puppy filter are already snapping away with the double-pup expansion.
Shout out to snapchat for the double dog filter pic.twitter.com/gLWx5U5jTB — Nijal D (@NijalD) May 17, 2016
Snapchat double dog filter when ya got no friends pic.twitter.com/CHf5cGfGPI — Cathleen (@catjaneh) May 17, 2016
While giving the new double-pup filter a try, my co-worker Tina and I took advantage of another recent update: multiple filters.
Along with the added and amended facial filters, Snapchat gave users the ability to use multiple photo filters in one snap.
Utilizing multiple filters at once is as easy as taking a photo with Snapchat and sliding your finger left or right to select your first filter (like the miles per hour label) as you normally would. Then, hold one finger down on your Snap and, with another finger, slide left or right to select your second filter (like the sepia tone).
The update opens up a fresh world of possibilities that could very well become vital to the future of communication.
I took it upon myself -- you're welcome -- to explore a few scenarios in which Snapchat's multiple filter update provides users with the ability to express their wants, needs, thoughts and feelings with precision and efficiency.
You can be a sexy summer grandma.
You can tell your friend Ricky nothing much is up with you -- in fact, you're chillin' at 0 mph -- and ask what is up with him.
You can act as a corporate shill for Lancôme while barfing the rainbow you ate last night on your evening unicorn travels.
You can even investigate potential new Snapchat hacks while you enjoy a tiny snack because this is all very strenuous work.
The sky is not even the limit anymore when it comes to Snapchat extravagance. In the immortal words of Cady Heron, the limit does not exist.
Citations: There's a Way to Double (or Triple!) Filter On Snapchat (Teen Vogue)