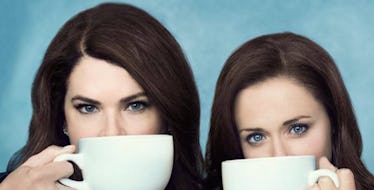 New 'Gilmore Girls' Poster Gives Us A Major Clue About Rory's Love Life
Netflix
The "Gilmore Girls" revival is almost here, and I couldn't be more excited.
Finally, after months of waiting, fans will have their burning questions answered in "Gilmore Girls: A Year in the Life."
We've been teased with set photos and clips from the upcoming series, but now Netflix released a new poster that has fans aching for more.
In the promo image, Alexis Bledel and Lauren Graham, aka my girls Rory and Lorelai, are seen sippin' on coffee. The ad was put out for National Coffee Day with the caption,
Drink it. Shoot it. Eat it. Snort it. Whatever form it's in, gimme. Happy National Coffee Day!
The ladies look lovely as always, and their blue eyes look brighter than ever. Hmm, must be that matching background.
Great choice, art directors.
You also probably didn't notice this extremely small detail about Rory in the new shot.
Grab your magnifying glass and take a closer look.
If you focus your attention on Rory's hand, you'll see she doesn't have anything on her ring finger. *GASPPPPP*
It's bare! There's nothing! Nada!
It looks like Rory will start off the series a single woman, but what will happen next?
If you recall, the girl has a lot of men to choose from. WHICH OF HER BOYFRIENDS IS IT GONNA BE ALREADY?
I'm personally Team Jess, but I'm fine with whomever Rory picks. It's her decision, so let the best man win.
BUT SERIOUSLY, SHE BETTER PICK JESS OR I'M GONNA FUCKING LOSE IT.
David Sutcliffe, the actor who plays Rory's father Christopher (goddammit Christopher), actually gave a major clue about who his TV daughter ends up with in the end.
While being interviewed by USA Today, Sutcliffe shared he was on Team Dean. He said,
I know they're not going to end up together, but Rory and Dean seem like a good couple.
Oh shittt, I guess Dean got the boot. I guess that means Jess is still in the race, thank heavens.
Be sure to watch the four-part event on November 25 to see who the lucky guy will be.
And uhh, if it's not Jess, then I'm never watching television again. BYE!
Citations: Gilmore Girls Poster (Refinery29)