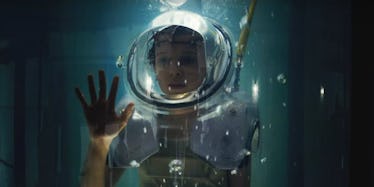 Stop Using Your Ex's Netflix Account With These Free Streaming Alternatives
Netflix
It's 2 pm on a Sunday, you're bored out of your mind, and you decide you're going to watch some Netflix for the next foreseeable future.
However, instead of feeling excited, a cold sweat starts to form on the back of your neck. And it's not because you're dreading to go to work tomorrow.
You're about to use your ex's account because like the rest of us, you suck at adult-ing.
Well, stop! You don't need to watch "The OA" low-key hoping your last significant other who broke up with you sometime around the second season of "House of Cards" won't notice.
(Newsflash: They always notice, and they're probably building a case against you to the FBI.)
As of the upcoming first week of April, you can take part of the Xfinity Watchathon Week (if you're a member of Xfinity X1's cable service) and gain access to Netflix's whole catalog.
Finally, here's your chance to watch "Stranger Things" without stealing your ex's password like the Demigorgon stole Will (and Barb stole our hearts).
In fact, Xfinity X1 cable is even releasing original series and trying to complete "The Other Side of the Wind," Orson Welles' final film he never finished.
Not sold on free Netflix? Look, I get it. "Iron Fist" isn't that great, I'll admit.
Dude, I'm sorry! I'll take it back! Just put your glowing hands away!
The Xfinity Watchathon Week also includes (*takes a deep breath*) AMC, Comedy Central, Showtime, A&E, ABC, Animal Planet, BBC America, BET, Bravo, Cartoon Network, CBS, CMT, CNBC, CNN, Crackle, CW, Discovery, Disney Channel, Disney Junior, Disney XD, E!, ESPN, Food Network, Fox, Freeform, FX, FXX, FYI, GSN, HGTV, History, ID, IFC, Lifetime, Logo, MLB Network, MTV, National Geographic, NBC, OWN, Oxygen, PBS, Science, Spike, Sprout, Starz, Syfy, TBS, TLC, TNT, truTV, TV Land, USA, VH1, Viceland, We TV and WGN America.
Whoa, that really took the wind out of me.
That's over 50 networks people. Chances are you won't be moving from your couch all week. Or all year. Or... when does Trump get out of office?
Citations: Don't have a Netflix account? Here's how you can stream for free. (Mic)