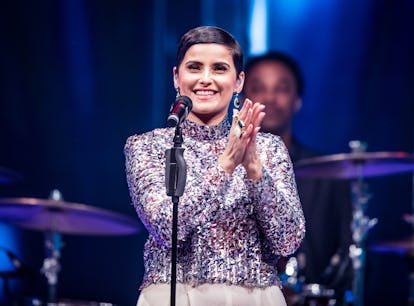 Nelly Furtado Is Just As Stunned As You Are That She's Making A Comeback On TikTok
"Maybe I'm a one-hit wonder,' but 20 years have gone by and people still like my music."
Simon Hofmann/Getty Images Entertainment/Getty Images
Nelly Furtado, one of pop's most timeless hitmakers, has returned to the scene. Then again, it never felt like the singer truly left, though her last album was released in 2017. Over the last two years, Furtado's presence could be felt on TikTok, where her nostalgic hits "Say It Right," "Give It To Me" and "Promiscuous" (clearly, the platform believes in Nelly-Timbaland supremacy) have regained popularity. In a way, it feels like time's repeating itself. These riveting tracks were inescapable in the early 2000s. Now, a new age of listeners can't go on a TikTok scrolling binge without hearing those same rhythmic bops. For Furtado, that reality is mind-blowing.
"When it comes to my legacy, it has only started to connect in the last few years because of TikTok," Furtado told Fault in a May 22 interview. "One day, my daughter said, 'Mom, your music is trending on TikTok.' I didn't even have TikTok on my phone, and I didn't know how to use it."
The Canadian singer eventually joined the platform in October 2020, where she began making videos with her daughter. According to Furtado, that's when she realized her career was going through a well-deserved renaissance. Seriously, the vault of hits sitting in Furtado's discography is gold.
"At the same time, I started going out and often hearing my music being played. I found out why the DJs were playing these old songs and discovered that people want to celebrate and have fun to my music," she said, reflecting on her initial thoughts when she became a singer. "When I started in this business, people would say, "Oh, maybe I'm a one-hit wonder," but 20 years have gone by and people still like my music.
Furtado's career first took flight in 2001 with "I'm Like A Bird," a folk-pop hit that sounds like it could've been in the end credits of a ABC Family drama. Nonetheless, it's still a bop. The track treaded softly enough to build her a fanbase; however, it wasn't until Furtado slipped in her 'good-girl-gone-bad' pop era in 2006 that all eyes were glued on her. That year, the singer released her Timbaland-produced album, Loose. This glossy record unearthed all the hits that's become viral sounds on TikTok, including "Maneater." With those crisp, high-resolution beats and slinky hi-hats, the duo created sonic gold that still hits with ease over a decade later.
That chemistry dripped over to Timbaland's 2007 Shock Value, where the two united with Justin Timberlake (who was also creating back-to-back heat with the producer) to release "Give It To Me." This track's groove was so infectious that many overlooked the lyrical content, which saw each artist throwing shade at other artists. Allegedly, Timbaland's verse was a diss to producer Scott Scorch; Furtado's braggadocious one-liners were an aim at Fergie; and Timberlake came for the late Prince. That latter was certainly... a choice.
Furtado took a brief break from music, before returning in 2012. Her then stint was rather short, and fans wouldn't hear another record from the singer until 2017's The Ride. Now, with a renewed interest in creating music, Furtado explained she's been putting her creativity to use.
"I've surrounded myself with so many creative people in the studio over the last year," she said, revealing she's recorded "a hundred songs in the last 18 months" that she's excited for fans to hear. "I've taken a 'the more, the merrier' approach and understood that you have to be open to staying excited and fresh," she said. "It's all about staying creative, being out there, listening to music, and being in the mix. You can't expect to just rest on your laurels and then one day saunter into the studio and make good music."
Furtado's long-awaited comeback couldn't have come at a better time. Not only is her discography continuing to zip through on TikTok, but her "Give It To Me" collaborators are also reuniting to work together on Timberlake's upcoming album. In April, Timbaland told Variety Timberlake's new project will embody that suave, fun flare from their collaborative 2006 album, FutureSex /LoveSounds. With these three music legends returning to the scene, let's hope another collaboration is in the works.