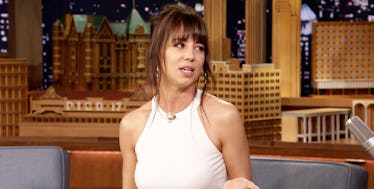 Natasha Leggero Says "Not Everyone's Good" At Political Comedy – EXCLUSIVE
NBC
Natasha Leggero is revered for her sharp, biting, quick-witted comedic styling.
The 43-year-old comedian was a frequent panelist on Chelsea Lately and is best known for her current starring role in Comedy Central's Another Period.
Elite Daily spoke with Leggero at Comedy Central's Colossal Clusterfest about her start in the world of comedy, her marriage to fellow-comedian Moshe Kasher, and the crossover between politics and comedy we're seeing so much of today.
Speaking on her start in comedy, Leggero told Elite Daily,
I grew up like an actress for theater when I was a child and so I always wanted to do that, and then I went to New York and went to acting school. Then I came to LA and couldn't get anything happening. Then someone was like, 'Hey do you want to come see this stand-up show?' and I saw it and it was just this girl I knew from New York standing on stage talking about how dumb people in LA were. And I was like, 'Oh my god, I can just talk about my feelings?' so I just tried it once and it went so great ... So then, I just started hanging out at The Comedy Store and hanging out with comedians and learning work ethic and that was like 17 years ago, so it took a while!
Leggero, who used to base the majority of her stand-up routines on the qualms of being a single, dating woman, recently got married to hilarious comedian Moshe Kasher; the husband and wife duo are currently on their Endless Honeymoon comedy tour.
Expectedly, the transition from wild party girl to married woman was difficult when it came to her comedy.
Leggero revealed,
It's really hard because I feel like I really kind of had a thing going on ... I was so comfortable being very aloof on stage saying... 'Oh, I have a boyfriend or someone I'm practicing emotions on' and 'I'm never having children, how disgusting.' I still don't think I've entirely figured it out because I do like to talk. You don't want to be lying, you don't want to be a person that you're not really anymore, and so I think you always have to take a little time off and just reflect and see where you're at and what your next stage is going to be. So I'm kind of in that time.
Following this light-hearted romantic conversation, we transitioned to a less love-filled, but equally as uncertain note: politics.
In today's political climate (a phrase I hope dies a brutal death sometime soon), it's difficult for anyone to skirt around the topic in everyday conversation -- and for comedians who make a living off bringing everyday conversations to the stage, it's impossible.
In light of the Kathy Griffin Trump-beheading spectacle, I asked Leggero her opinion on the political-comedic crossovers we're seeing so much of.
Shaking her head slowly, Leggero revealed,
It's not necessarily good that everyone's being political because as we've seen in the news, not everyone's good at political commentary. It's a lot of pressure, but at the same time, people are really upset ... And I do feel like comedians, we get on stage and five terrible things have happened that day it's kind of crazy to not be talking about it. I mean it's very hard to be funny about it right now I think, because you know, we elected someone who said -- I don't know, two months before he was elected -- that he can grab women by the pussies? I mean... and then kids hear that? Like, I'm just very confused how that was even able to happen -- Did you cry when he was elected? I think a lot of women cried. And it's embarrassing and it's humiliating. I was just in Europe and I felt like everyone who I'd talk to I would have to ... explain. Because they'd be like, 'Oh, you're from America, Trump, terrible.' And it's just like I didn't vote for him. I don't know anyone who voted for him. I still don't know one person who voted for him ... I'm sure a lot of people feel very defeated and confused. So, yeah, I mean, obviously people are going to let it out in some ways.
Leggero's hilarious show Another Period returns next year to Comedy Central.