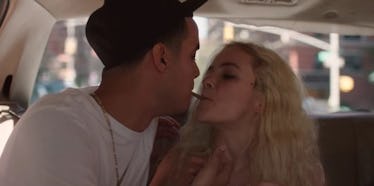 You Have To See This Movie About A Drug-Obsessed, Sex-Crazed White Girl
YouTube
I don't think there has been a raw, stripped-down, "bird's eye view into our underworld" type of movie that depicts a generation of drug-addled youth, since the 1995 cult classic "Kids."
I saw that movie a few years after its release when I was only 12 years old on VHS at a friend's house. My mind was sorely blown.  And let me tell you -- I owe my sexual health to that movie. That movie held a mirror up to the HIV/AIDS crisis and to this day, I'm diligent -- an advocate, even -- when it comes to using protection during sex. And thank God. All my friends have "Kids" to thank for that.
However, our generation has been a little screwed in the movie department. Seems like all we get is cheesy, shiny-haired white girls and big-toothed jocks falling in haphazard love. It's all squeaky clean and she wears quirky "glasses" and is closed off until he breaks through her protective shell. It doesn't accurately depict our lives in the slightest.
This is why you have to see this movie about a drug-obsessed, sex-crazed white girl. The movie is accurately called "White Girl" as reference to her skin and to her cocaine habit. After seeing the trailer, I'm now singing to the high heavens, because finally, baby, my generation has a movie.
It deals with the topic that we all like to avoid: cocaine. And the kids are doing cocaine at rapid-fire speed. And the kids are overdosing and destroying their lives but WE NEVER WANT TO TALK ABOUT IT. So we keep making movies about pretty white perfect kids and avoid the reality that's killing us.
This movie will hold up a mirror to the real lives we're living. That's what so amazing and powerful about movies. When we watch our lives displayed in a real way across a screen, without a filter, we're able to connect it to our own lives and make active changes that could potentially save our lives.
Not to mention, it looks sick and has a killer soundtrack. Check out the trailer and the movie will be out this fall.
Citations: 'White Girl' Is an Explosive, Sex & Drugs-Filled Movie About NYC Youth (NSFW) (High Snobiety)