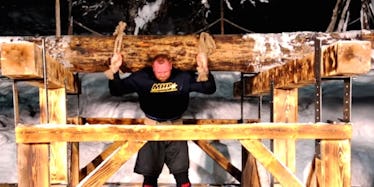 The Mountain From 'GOT' Breaks 1,000-Year-Old Weightlifting Record (Video)
We all know The Mountain in "Game of Thrones" is crazy strong, but this strength isn't just fictional.
The guy who plays The Mountain, Hafthór Björnsson, is one of the strongest people in the world.
Björnsson just won the World's Strongest Viking competition by breaking a 1,000-year-old record. In order to accomplish that feat, Björnsson carried a 30-foot, 1,433-pound log on his back for five steps.
His strength is bordering on superhuman, and I have no idea how a person does something like this, but he did, and you can see the evidence up top.
Prepare to feel puny.
Also, here is his Instagram post about his feat of strength:
Citations: Watch The Mountain from Game of Thrones Break a thousand Year Old Weightlifting Record (Time)