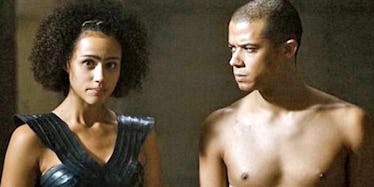 Missandei Actress Talks Upcoming Romance With Grey Worm & Things Will Get Steamy
HBO
Game of Thrones is known for two things: violence and sex. The Season 7 trailers have already assured us the new season will be chock-full of violence, but where's the love? Well, look no further than Daenerys' two loyal advisors for all the heat next season.
Apparently, in the upcoming GoT season, things will (finally) get hot and heavy between Missandei and Grey Worm, the Khaleesi-serving pair who have been coyly flirting with one another for way too long now.
Nathalie Emmanuel, who plays Daenerys' advisor Missandei, teased to Entertainment Weekly that the new season may finally include a full-on romance scene between Grey Worm and her character:
These two have always hidden behind their duty. But times like this where it's not guaranteed they will even see each other again, where he might be killed and she might be … who knows … they're having to confront their emotions and feelings to each other.
As Emmanuel stated, Missandei and Grey Worm have repressed their clear attraction to one another in the past due to their positions as Daenerys' two most trusted confidants. But as the stakes grow more dangerous in Season 7, the stage is finally set for the two fan favorite characters to act on their passions.
But of course, they can't really do too much, given that Grey Worm was castrated in order to join the ranks of the Unsullied. Still, expect some steamy scenes between Missandei and Grey Worm when the Game of Thrones returns.
Let's just hope this newfound happiness doesn't lead to immediate despair, as is so often the case in Westeros. Emmanuel said Missandrei's role becomes a lot more important in the new season, but she also has to deal with a few distractions (AKA dry-humping Grey Worm, probs). And in GoT math, increased screen time plus romantic distractions can often lead to a deadly end.
But if something bad does happen to Missandei or Grey Worm, at least fans will get to see them finally hook up first. Game of Thrones returns for its seventh season on July 16.