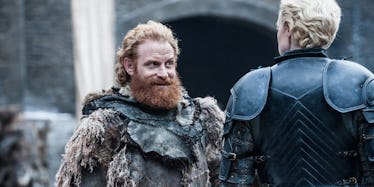 This Hyped-Up Hookup Finally Happened On 'Game Of Thrones,' And It Was Steamy
HBO
Game of Thrones finally gave fans the hookup we were all waiting for. No, Tormund and Brienne are still showing no progress, but Daenerys' every-loyal counselors Missandei and Grey Worm are finally turning up the heat after seasons of obvious flirting.
In Sunday night's new episode, the second of Season 7, Missandei and Grey Worm finally took their relationship to the next step, from flirty co-workers to full-on lovers. Well... OK, not exactly lovers, due to that brutal Unsullied initiation ceremony, but as close as a eunuch can get.
Before leaving the war with Daenerys, Grey Worm says his final goodbyes to Missandei. He calls her "his weakness," after relaying to her the Spartan-like practices of the Unsullied leaving their children exposed to their greatest fear and either surviving or dying.
After seasons of flirting, Grey Worm finally leaps into a kiss, and Missandei responds by starting to disrobe herself, and then Grey Worm. Despite a bit of hesitation from Grey Worm about revealing his castrated nether regions, the two quickly fall to the bed and finally consummate their love after so long.
Nathalie Emmanuel, who plays Missandei, actually teased the Grey Worm hookup a couple weeks ago. She said as circumstances get more dire in Westeros, Missandei and Grey Worm are finally forced to confront their feelings for one another.
Emmanuel also revealed that Missandei was going to evolve into a more important character this season, which we saw the beginnings of on Sunday's episode. But the scary thing is, she also said Missandei will have to deal with new distractions, clearly pointing to her newly romantic relationship with Grey Worm.
Sadly, it looks like Grey Worm and Missandei are parting ways after finally acting on their feelings for one another. Let's hope these two and their love can survive the season...