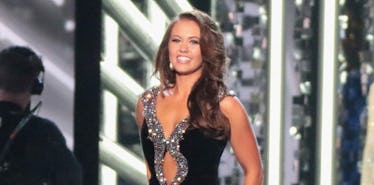 Miss North Dakota Just Won Miss America 2018 And She Totally Deserves The Title
GETTY/ Donald Kravitz
We finally have our new Miss America. During Sunday night's diamond-encrusted, glamorous pageant, Miss North Dakota won Miss America 2018. Miss North Dakota, Cara Mund, is the lucky winner of a $50,000 scholarship and a six-figure salary income during her reign. Out of the 51 women who started the night vying for the title, Mund was awarded the crown by hosts Chris Harrison and Sage Steele, and the panel of esteemed judges – country singer Thomas Rhett, model Molly Sims, singer Jordan Sparks, People Magazine Editor in Chief Jess Cagle, TV journalist Maria Menounos, and Miss America 2014 Nina Davuluri.
Following Mund's win was first runner-up Miss Missouri Jennifer Davis, second runner-up Miss New Jersey Kaitlyn Schoeffel, third runner-up Miss Washington D.C. Briana Kinsey, and fourth runner up Miss Texas Margana Wood.
The new Miss America is a graduate of Brown University and grew up in Bismark, North Dakota. Miss North Dakota's compassionate attitude is reflected in her pageant platform: "A Make-A-Wish Passion with Fashion."
When she was 14 years old, Mund created an annual Make-A-Wish fashion show in North Dakota and worked to raise nearly $80,000 for Make-A-Wish children -- a charitable act so great that President Barak Obama took notice. For her talent portion, Mund performed a jazz dance to "The Way You Make Me Feel" that wowed the audience and judges.
Miss North Dakota is taking the crown from the 2017 Miss America winner, Savvy Shields, who shared her advice for the incoming title-holder.
I think the biggest thing, and it's something my class tried really hard to reiterate, was recognizing that we're not here to win the crown. That is something one girl will walk away with, but there's 51 other women [who] are going to be there… You're there with these girls. You're soaking up every single moment. And the goal shouldn't be walking away with the crown, but the goal should be walking away a better version of yourself than when you came.
Shields tweeted out her support and excitement for the new Miss America minutes after passing along the crown.
Shields has spent the last year been putting her hefty scholarship prize money to good use since she won last year. Shields articulated the importance of her prize, stating:
People forget and people don't really know that [Miss America] is the largest scholarship organization in the world. I am still walking away with over $90K in scholarship that I haven't even touched. I can graduate college debt-free and go for more education, not even having to worry about it. I'm not just speaking for myself, I'm speaking for every single contestant, national, state, and local title-holder that is a part of this organization.
Holding the Miss America title is as much an honor as it is a responsibility. Cara Mund has big shoes to fill following Sheild's reign, who let fans know what they can expect from her next:
When people ask 'what's your plan afterwards?' or 'what's your goal?' my answer is everything because I've seen and been exposed to so many charities, philanthropies, people that I've become emotionally invested in. And so it's exciting to learn what I've done as Miss America and use it in my life.
In addition to the newly crowned Miss America's prizes, the second place winner takes home a $25,000 scholarship, the third place winner wins a $20,000 scholarship, and the fourth place winner takes home a $10,000 scholarship. The top 10 contestants are all awarded between $4,000 and $8,000 in scholarship money and the rest of the competing women also leave the pageant with a $3,000 scholarship.
Here is a breakdown of the Miss America prizes:
Winner – $50,000
First Runner-Up – $25,000
Second Runner-Up – $20,000
Third Runner-Up – $10,000
Semifinalists 6 and 7 — $8,000 each
Semifinalists 8 through 10 — $7,000 each
Semifinalists 11 and 12 — $5,000 each
Semifinalists 13 through 15 — $4,000 each
Contestants 16 through 51 — $3,000 each
Three Preliminary Talent Winners — $2,000 each
Three Preliminary Lifestyle And  Fitness in Swimsuit Winners — $1,000 each
Four Non-Finalist Talent — $1,000 each
Miss Congeniality — $2,000
Congratulations to the new winner!