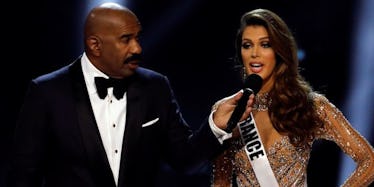 Miss America 2018 Wins Way More Than Just A Crown And It's Amazing
ABC
On Sunday, Sept. 10, the annual Miss America pageant graced the screens of the nations. While the dresses are fantastic and the talents are impressive, underneath the glitz and the glam, the core of the Miss America pageant is rooted in the life-changing prizes. Those at home watching find themselves asking, "What exactly does Miss America win?" Well, it's more than just a title.  The winner of Miss America takes home a whopping $50,000 scholarship and a six-figure salary during her reign.
In addition to the first place winner, the second place winner gets a $25,000 scholarship, third place a $20,000 scholarship, and the fourth place winner takes home $10,000. It doesn't end there, the top 15 semi-finalists are all awarded between $4,000 and $8,000 in scholarship money and the rest of the competing women also leave the pageant with a $3,000 scholarship.
Bonus scholarships are also given out throughout the pageant based on the Talent portion, the Lifestyle and Fitness in Swimsuit portion, and the Miss Congeniality portion.  These incredible prizes are important to note while watching the Miss America 2018 pageant; the smiles are worth much more than a sparkling crown.
Here are all the prizes awarded to the Miss America competitors:
Winner – $50,000 First Runner-Up – $25,000 Second Runner-Up – $20,000 Third Runner-Up – $10,000 Semi-Finalists 6 and 7 — $8,000 each Semi-Finalists 8 through 10 — $7,000 each Semi-Finalists 11 and 12 — $5,000 each Semi-Finalists 13 through 15 — $4,000 each Contestants 16 through 51 — $3,000 each 3 Preliminary Talent Winners — $2,000 each 3 Preliminary Lifestyle And  Fitness in Swimsuit Winners — $1,000 each 4 Non-Finalist Talent — $1,000 each Miss Congeniality — $2,000
The Miss America pageant is nearly 100 years old, first beginning in 1921 in Atlantic City, New Jersey. The show was originally created as a way to keep tourists around the New Jersey beach after Labor Day ended. The show still takes place in Atlantic City every year.
This year's show was hosted by Bachelor Nation host Chris Harrison and TV anchor Sage Steele. The show was judged by country singer Thomas Rhett, model Molly Sims, singer Jordan Sparks, People Magazine Editor in Cheif, Jess Cagle, TV journalist Maria Menounos, and Miss America 2018, Nina Davuluri.
Speaking to the Miss America Organization, Davulri spoke about her excitement to be a judge, saying:
I understand all too well the emotions of stepping on to the Miss America stage. I'm honored to be able to help shape the legacy of the Miss America Organization over the next year!
Fellow judge Thomas Rhett said the night would be "interesting" and revealed, "I don't know how much judging is actually involved, but I get to read some questions and get to evaluate the answers."
Resident Grammy-nominated judge Jordan Sparks released this statement about her excitement:
I am honored to participate as a judge for the Miss America Competition this year. I understand the pressure that a competition brings and I'm lucky it's given me the unique perspective on the hard work that the contestants have to put in to get to this point. No doubt they are all strong women and I look forward to hearing the platforms they represent.
Molly Sims, who has made a name for herself in the modeling industry, is also no stranger to pageants. In an interview with Closer Weekly, Sims discussed her past experience in the pageant world.
I did a few beauty pageants … I think it's great, you know as a little girl I grew up watching it. So to see these strong women who are not only beautiful but smart, educated — I think the combination is pretty killer, so I'm really honored to be a part of it. It's fun — I remember me [as a little girl] and I wanted to be them. It's fun. It takes you back.
Miss America 2018 was surely an unforgettable evening for many young women, especially the contestant who took home the big prize, Miss North Dakota Cara Mund.