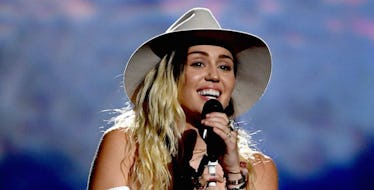 The Track List For Miley Cyrus' Album Is Here And Here's The One Artist She Features
Ethan Miller / Getty Images
Miley Cyrus is back and better than ever. The star released another single on Friday, Aug. 18 along with the track list for Younger Now, her sixth studio album coming in September.
Along with her singles "Malibu" and "Younger Now" (the song), here's the list of jams we'll get when Miley's album drops on Sept. 29:
1. "Younger Now" 2. "Malibu" 3. "Rainbowland [feat. Dolly Parton]" 4. "Week Without You" 5. "Miss You So Much" 6. "I Would Die For You" 7. "Thinkin'" 8. "Bad Mood" 9. "Love Someone" 10. "She's Not Him" 11. "Inspired"
OK, just looking at these titles, this album sounds like it's going to be amazing. It's also interesting to note that the only artist she features on the album is Dolly Parton, her godmother, on the song "Rainbowland." If you're a fan of Miley, you know she often cover's Parton's song "Jolene," so maybe this album and this song shows she's going back to her roots.
Miley has always been vocal about her love for Dolly. In an interview on ITV, Miley said,
If you don't like Dolly then you're weird. And if I'm telling you you're weird then there's something really wrong because I'm one of the weirdest people on the planet. No one doesn't like Dolly. I've had such a great role model as a musician but also as a person, she's the kindest of all.
Also, the tenth song on the album is titled "She's Not Him." After her breakup with Liam Hemsworth in 2013, Miley was rumored to be dating Victoria's Secret model Stella Maxwell (who's now dating Kristen Stewart). Miley and Liam got back together in late 2015/early 2016, so maybe this song is about her fling with Maxwell?
Regardless, we'll have to wait until Sept. 29 to see what these two tracks sound like. Fans are losing it over Miley's second single and can't wait for the full album to drop.
You can listen to "Younger Now" and preorder Miley's new album on iTunes.