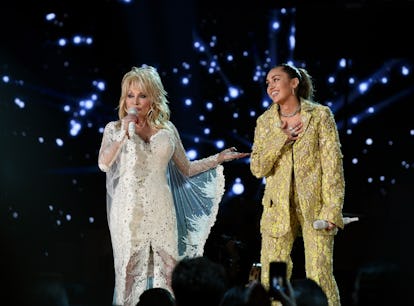 Miley Cyrus Had The Best Response To A School Banning Her "Rainbowland" Duet
"To the inspiring first grade students at Heyer Elementary, keep being YOU."
Emma McIntyre/Getty Images Entertainment/Getty Images
Miley Cyrus believes that self-acceptance is not a controversial topic, especially for the youth. On March 29, the singer's Happy Hippie Foundation echoed that statement after an elementary school in Wisconsin banned "Rainbowland," her 2017 duet with Dolly Parton, from their spring concert lineup. The decision made at Heyer Elementary School caught social media's attention after first-grade teacher Melissa Tempel reportedly called out the Waukesha County School District on Twitter.
"My first graders were so excited to sing Rainbowland for our spring concert but it has been vetoed by our administration. When will it end?" Tempel wrote on March 21, tagging both Parton and Cyrus in the post. She also included a picture of the song's lyrics in her tweet. On "Rainbowland," which appeared on Cyrus' Younger Now album, both singers harmonize about living in a vibrant space of freedom and inclusivity.
"Living in a Rainbowland / The skies are blue and things are grand / Wouldn't it be nice to live in paradise / Where we're free to be exactly who we are," the duo croon.
Nearly a week after Tempel's post, Cyrus' foundation — a nonprofit that supports the LGBTQ community and homeless youth — responded to the ban on Twitter. "To the inspiring first grade students at Heyer Elementary, keep being YOU. We believe in our Happy Hippie heart that you'll be the ones to brush the judgment and fear aside and make all of us more understanding and accepting," the organization tweeted.
In another tweet, Happy Hippie also shared that they are making a donation to Pride and Less Prejudice, an organization providing pre-K through third-grade classrooms with LGBTQ-inclusive books, to help Heyer students "read out loud, read out proud."
According to People, Heyer Elementary's school principal and the central office administrator determined the song's theme was "controversial" for their first graders. Tempel, alongside other teachers at the school, reportedly wanted the concert to have a theme of world unity and peace, hence their decision to choose an inclusionary anthem like "Rainbowland."
On March 28, Tempel further shared her frustration with the ban on Twitter. Specifically, she noted how the school's actions are harmful to the track's original message. "The Rainbowland story is about much more than a banned song. The result of the political pushback on LGBTQ+ inclusivity and rights in schools is unfolding and it's tragic," she wrote.
According to Billboard, students will now perform Kermit the Frog's "Rainbow Connection" (which was also initially banned, but later added back to the program) in place of "Rainbowland." They'll also include other world peace gems like The Beatles' "Here Comes the Sun" and Louis Armstrong's "What a Wonderful World."