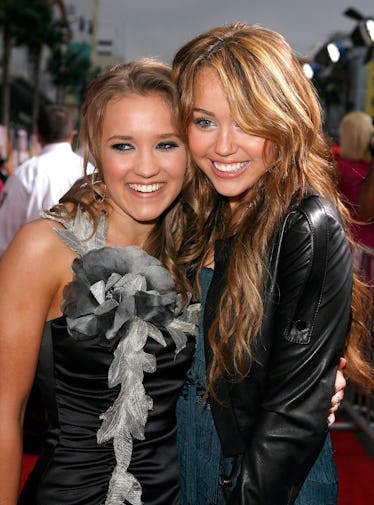 Here's Where Miley & Emily's Friendship Stands 10 Years After Hannah Montana
The experience they shared created a unique bond.
Jeff Vespa/WireImage/Getty Images
There's something about Disney Channel nostalgia that makes it one of the most unifying things on the internet. It seems like fans of Hannah Montana, Lizzie McGuire, That's So Raven, and other classics naturally band together, even years after each show's cancellation. However, the Disney Channel camaraderie isn't quite strong enough for others — specifically, the shows' stars. That isn't the case for Miley Cyrus and Emily Osment, though. Thankfully, years after Hannah Montana stopped airing, Miley Cyrus and Emily Osment's friendship is going strong. In fact, they're just as nostalgic about the show as the rest of us.
Like most friends, Cyrus and Osment have had their fair share of ups and downs through the years. There were a few times they barely spoke to each other in the public eye, while, at other times, they gushed about their admiration for one another for all to see.
At the end of the day, the two stars have kept their friendship on the down-low. It's natural for fans of a hit Disney Channel show like Hannah Montana to wonder where its stars' relationships stand years later, so here's what's happened over the course of their friendship from the early episodes of the show to present day.
This article was originally published on