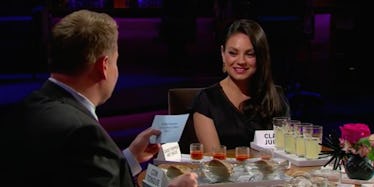 Mila Kunis Gets Real About How Ashton Kutcher Reacted To Her Penis Comment
YouTube
Mila Kunis recently dished the details about Ashton Kutcher's penis on "The Late Late Show."
We reported James Corden played a crazy game called "Spill Your Guts or Fill Your Guts" with Mila and her fellow "Bad Moms" co-star Christina Applegate.
The rules of the game are pretty self explanatory… spill your guts to a grilling question OR fill your guts with something absolutely VILE (for example, grasshoppers).
When Mila was put under the spotlight, she could either drink clam juice (um… yummy) or spill the beans about the size of her hubby's penis.
James Corden seriously did not hold back one bit — and I think we're all totally loving him for it — when he asked Mila if Ashton is more of a "carrot stick or beer can."
It got SUPER real. Just have a look for yourself...
After some deliberation, Mila was confident about her answer:
"Long and thin. Like a Guinness."
Now that the exclusive details are out in the open about Ashton Kutcher's penis, E! News followed up with Mila at the "Bad Moms" premiere to see how her other half felt about all of this.
She said,
"He was very happy about the Guinness."
"And then I was like, 'I should've been like a 40!'"
So there you have it… the lowdown on Ashton Kutcher's ~Guinness~ penis.
Citations: Mila Kunis Reveals How Ashton Kutcher Felt About Her Comments Regarding His Penis (E! News)