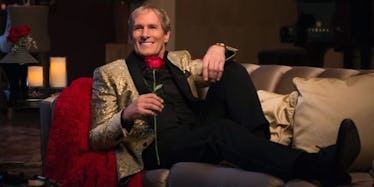 'Michael Bolton's Big Sexy V-Day Special' Proves Netflix Is The Ultimate Bae
Netflix
If you're someone who relishes in the fact you can use "SNL" as an excuse to stay in on a Saturday night, your loser single ass will love staying in on February 14 to watch "Michael Bolton's Big Sexy Valentine's Day Special" on Netflix.
The hour-long special, directed by Akiva Schaffer of The Lonely Island and Comedy Bang Bang's Scott Aukerman, takes the baby-making music of the '90s and pairs it with a comedic powerhouse that includes Andy Samberg, Maya Rudolph, Sarah Silverman, Randall Park, Eric André, Will Forte, Louie Anderson, Janeane Garofalo and Brooke Shields, among others.
The premise of the special is centered on a version of Michael Bolton fans have seen before, following the now-traditional "SNL Digital Short" parody tone.
Akiva Schaffer, together with Andy Samberg and Jorma Taccone, are responsible for the creation of the sexually-charged, movie-enthused version of Michael Bolton we first met in 2011 in the "Jack Sparrow" music video.
Luckily, Bolton's alter ego has been resurrected and leads a telethon of celebrities keeping track of the number of babies conceived on Cupid's birthday throughout the Netflix original special.
Speaking of the creation of the Bolton "character," Akiva Schaffer told the audience at the Netflix "Dare To Be Different" panel in New York,
The character of Michael Bolton that is in the special, that was also in 'Jack Sparrow,' was wholly invented without ever meeting him. It was just us [The Lonely Island] in a room being like, 'Well, who do we want him to be?... and the first time, we didn't even know if he'd want to do it, we were just doing it out of thin, blue air just like, 'Hm, it'd be funny if it was Michael Bolton, let's just email his manager and just see.'
He continued with a laugh,
It's become his [Bolton's] real version now... To be fair, we guessed right on a lot of things -- mainly the sexiness, the hornines, I think we just guessed right on that stuff.
The unexpected, raw and beautifully vulgar lyrics are made all the better with Michael Bolton's unparalleled voice.
So (boys, take notes), if you're trying to get your girl with a niche sense of nasty humor in the mood, put on "Michael Bolton's Big Sexy Valentine's Day Special" and bone to the crooning voices of Sarah Silverman and Randall Park singing "I'll smoke a doob / I'll grab your boob, then I'll sniff like a dog through your mountain of pubes" this Valentine's Day.
Happy holidays, weirdos.
"Michael Bolton's Big Sexy Valentine's Day Special" is streaming now on Netflix.