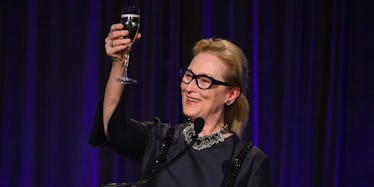 Meryl Streep Said 'We're All Africans,' And Everyone Is Confused
Getty Images
Meryl Streep's understanding of diversity is becoming increasingly difficult to nail down in light of comments she made on Thursday regarding the all-white panel of judges at Berlinale, also known as the Berlin International Film Festival.
Streep is this year's jury president, joining fellow panelists Clive Owen, actor Lars Eidinger, British film critic Nick James, French photographer Brigitte Lacombe, Italian actress Alba Rohrwacher and Polish director Małgorzata Szumowska.
Of the panel's diversity, Streep apparently told reporters,
This jury is evidence that at least women are included and in fact dominate this jury, and that's an unusual situation in bodies of people who make decisions… So I think the Berlinale is ahead of the game.
Eeeeeyeah… all right… maybe. But when one Egyptian reporter inquired whether the three-time Oscar winner "understood films from the Arab world and North Africa," Streep reportedly responded,
I've played a lot of different people from a lot of different cultures.
According to Associated Press, Streep added,
There is a core of humanity that travels right through every culture, and after all we're all from Africa originally… Berliners, we're all Africans really.
The glaring issue with Streep's statements is the unfortunate fact, regardless of whether we're "all Africans," white "Africans" among us seem to routinely experience systemic privileges not extended to our black compatriots.
Could the lauded actress's statements reflect a blind spot developed by the very privilege that afforded her the opportunities to play so many roles "of different people from a lot of different cultures"?
Twitter appears to believe Streep is out of touch.
Streep's remarks also arrived amid controversy over the all-white selection of people nominated for Oscars, which, upon the announcement of the nominees, raised concern within the entertainment community and inspired stars like Will Smith and Jada Pinkett Smith to boycott the ceremony altogether.
Citations: Meryl Streep on diversity: 'We're all Africans, really' (Mashable), Berlin Film Festival jury questioned over diversity (Associated Press)