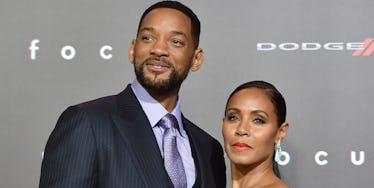 Celebrities Are Planning To Boycott The Oscars For This Reason
Getty Images
Two familiar faces will be missing from the Oscars red carpet this year, and it has everything to do with the lack of diversity among major nominees.
Last week, the Academy of Motion Picture Arts and Sciences announced the 20 (all-white) acting nominees for this year's ceremony.
On Monday, Martin Luther King Jr. Day, Spike Lee and Jada Pinkett Smith separately announced they will not be attending the awards on February 28.
Lee posted a photo of MLK Jr. to Instagram with the hashtag #OscarsSoWhite and expanded upon his disappointment with the nominees in the photo's caption.
The filmmaker shared,
How Is It Possible For The 2nd Consecutive Year All 20 Contenders Under The Actor Category Are White? And Let's Not Even Get Into The Other Branches. 40 White Actors In 2 Years And No Flava At All. We Can't Act?! WTF!!… For Too Many Years When The Oscars Nominations Are Revealed, My Office Phone Rings Off The Hook With The Media Asking Me My Opinion About The Lack Of African-Americans And This Year Was No Different. For Once, (Maybe) I Would Like The Media To Ask All The White Nominees And Studio Heads How They Feel About Another All White Ballot.
Pinkett Smith shared Lee's concerns in a video on her Facebook, in which she announced she would not be there to see comedian Chris Rock host the ceremony.
We must stand in our power. Posted by Jada Pinkett Smith on Monday, January 18, 2016
She reminded viewers,
Begging for acknowledgment, or even asking, diminishes dignity and diminishes power, and we are a dignified people, and we are powerful, and let's not forget it.
The "Gotham" actress, whose husband, Will Smith, was not nominated for his work in this year's film "Concussion" despite garnering Oscar buzz for his performance, wished Rock well.
She said,
Hey Chris, I will not be at the Academy Awards and I won't be watching, but I can't think of a better man to do the job at hand this year than you, my friend. Good luck. And, to the rest of you, nothing but love, always.
On Friday, Rock tweeted a promo for the event and captioned it, "The White BET Awards."
As of now, the "SNL" alum is still hosting the live broadcast.
Actress Janet Hubert, aka Aunt Viv from "The Fresh Prince of Bel-Air," spoke out against Pinkett Smith's remarks on Facebook.
Hubert criticized Will Smith's performance in "Concussion" and advised other actors not to follow Pinkett Smith's lead for fear of being blacklisted by the industry.
Still, the Academy of Motion Picture Arts and Sciences is largely composed of older, white, male members whose selections are routinely whitewashed.
The Academy's president, Cheryl Boone Isaacs, who is the third woman and the first African American to be president, admitted to being "disappointed" in the nominees' lack of diversity.
She told Deadline,
Of course I am disappointed, but this is not to take away the greatness [of the films nominated]. This has been a great year in film, it really has across the board. You are never going to know what is going to appear on the sheet of paper until you see it.
Isaacs added despite the Academy's past efforts at promoting diversity among those it recognizes, the group has to "speed it up" and provide a far more equal playing field for talent of all backgrounds.
Citations: Jada Pinkett Smith, Spike Lee to boycott Oscars ceremony (CNN), Aunt Viv Drags Will Smith and Jada Pinkett Smith Over Oscars Boycott (The Daily Beast), Oscar Voters: 94% White, 76% Men, and an Average of 63 Years Old (The Atlantic), Lack Of Color In Oscar Nominations Frustrates Academy President (Deadline)