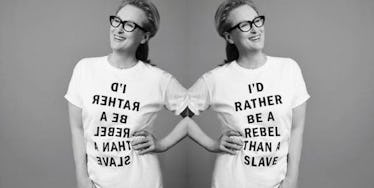 Meryl Streep Faces Backlash For Wearing Shirt With Controversial Quote
Last week, Meryl Streep and a few of her cast members for the upcoming film "Suffragette" were criticized after they wore t-shirts with controversial slogans on them.
The shirts, offered to the actresses by Time Out London magazine, read,
I'd rather be a rebel than a slave.
In the film, Streep plays women's rights activist Emmeline Pankhurst, the voice behind the quote.
Carey Mulligan, Anne-Marie Duff and Romola Garai wore the shirts as well, and the magazine published the photos.
Many people went to Twitter to express their disapproval of the shirts.
The photos were considered racially insensitive, and some people thought they seemed to imply being a slave is a choice.
Many believe Streep and her publicist should have known better than to promote the message.
Streep's response when Time Out asked if she was a feminist also upset several people.
According to a statement from Time Out, Pankhurst's full quote from 1913 says,
I know that women, once convinced that they are doing what is right, that their rebellion is just, will go on, no matter what the difficulties, no matter what the dangers, so long as there is a woman alive to hold up the flag of rebellion. I would rather be a rebel than a slave.
The publication believed the quote was taken out of context and said the people who read the actual piece didn't have any complaints. In the original article, the magazine said the quote was about "finding your voice, keeping your nerve and fighting the impulse to be a 'good girl.'"
In the statement, the magazine added,
The original quote was intended to rouse women to stand up against oppression -- it is a rallying cry, and absolutely not intended to [criticize] those who have no choice but to submit to oppression, or to reference the Confederacy, as some people who saw the quote and photo out of context have surmised.
"Suffragette"  is set to be released in the US on October 23.
Citations: Meryl Streep and co-stars attract backlash over Suffragette T-shirt slogan (The Guardian), Statement in response to 'Suffragette' t-shirt complaints (Time Out)