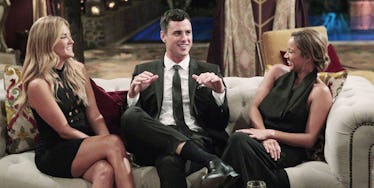 Why I Love Watching 'The Bachelor' Each Week, As Told By A Man
ABC
The winter and spring months may just be seasons to some people, but for those who are part of "Bachelor Nation," this time of year means only one thing: it's time to watch "The Bachelor."
On March 25, 2002, ABC television network presented the world with an American television dating show that now has millions of people tuning in across the world.
When the show first began in 2002, the running time was only 60 minutes. As the years went on and "The Bachelor" picked up popularity in 2009, the show's running time increased to 120 minutes.
For those who watch, they will definitely stand in solidarity with me when I say that it is the best 120 minutes of any Monday night.
For all of the men out there, I know what you may be thinking.
Why would one spend such a large portion of their Monday evening watching people go on dates, drink wine and sit through long, torturous rose ceremonies?
You may also be wondering, why are there never any men in the audience during the "After The Final Rose" special. It's ALWAYS just women who fill the seats.
Men, do not be ashamed.
I know there are many of you who (just like me) watch "The Bachelor," or have at least heard others rave about it.
While it may be true that a mass amount of females tune in to "The Bachelor" each week, this is your chance to show your female counterparts that you too, are in touch with your sensitive side.
Also, nothing is more manly than being able to sit through two hours of fantasy dates and roses being handed out and actually enjoying it. Take a break from Monday night wrestling or football once in a while and watch something that will score you one with the ladies.
"The Bachelor" is famous for going on marvelous dates.
Now guys, I am not saying to take your girlfriend on a weekend trip to Las Vegas or Germany or even hike up the side of a snowy mountain.
However, while watching "The Bachelor," I am sure you will develop a greater sense for what women look for on dates or even gain a great idea for the next date.
Guys, when you admit that you watch "The Bachelor," you are automatically viewed as being well rounded.
I love watching Men's College Lacrosse games on television just as much as the next guy.
But whenever I hangout with any of my female friends and contribute to the conversation about who didn't get a rose at last night's rose ceremony, I have discovered that many of my female friends have a newfound appreciation for a guy who can find a balance between sports and sentimental television.
"The Bachelor" can also provide us guys with great dating tips.
Sadly, as a loyal fan of "Bachelor Nation" for many years, I have seen a number of "Bachelor" relationships end.
So here's a tip: Aside from physical attributes and the wonderful dates, be sure that the person you are spending a great deal of time with will love you once the honeymoon phase is over.
Given the new age of technology that has taken the world by storm, various hashtags on Twitter trend while the show is on. I'm sure if your friends are tweeting about the most jaw-dropping "Bachelor" moments, you won't want to feel left out.
Watching the show can help you stay connected to one of the most entertaining dating shows of our generation.
Guys, please do not fight anyone for the remote control the next time you see "The Bachelor" on television.
Do not try to resist the urge to partake in a nearby conversation about the show because it will happen somewhere near you, soon.
"I WATCH 'THE BACHELOR' AND I AM PROUD!" Scream it from the rooftops.
And of course, tune in to season 20 of "The Bachelor" and enjoy.