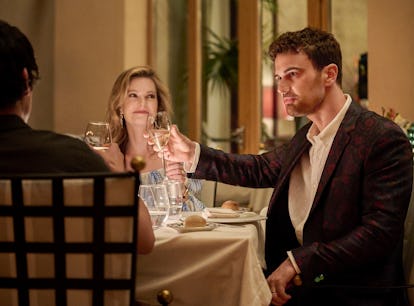 Meghann Fahy & Theo James Addressed The White Lotus On-Set Hookup Rumors
HBO Max
The White Lotus Season 2 has attracted a lot of buzz — including quite a few Golden Globe wins — but the rumored off-screen antics have become a storyline in their own right. Many fans (plus DeuxMoi) think cast members Meghann Fahy and Leo Woodall embraced the romantic vibes of Italy and hooked up during filming. In a Jan. 10 appearance on The Today Show, Hoda Kotb and Jenna Bush Hager interviewed Fahy and fellow White Lotus star Theo James. The question of on-set romance came up, and Fahy and James addressed the rumors in the best possible way.
"This was shot at a beautiful hotel in a very romantic place. Was there any romance, Meghann?" Bush Hager asked not-so-subtly. "I have to ask for all my friends out there in real life."
Fahy wasn't phased. She replied, "I'm sure there was." At that point, James stepped in, "Oh my God, so much romance. You can't even imagine how much romance." Fahy added, "I don't know anything about any of it, but I think there probably was some."
James kept the bit going. "Basically at the beginning of each week, we'd throw our keys into a big bowl and you'd pick it out at the end [and that's] who you're gonna be with," he joked. "Yeah, I ended up with Mike White and Adam [DiMarco] about five times." Fahy added to James, "I think you rigged it that way."
The interview clip made its way to TikTok, where the comments section had a lot of opinions. "So inappropriate," one fan replied. Another wrote, "She's so uncomfortable." However, others appreciated the tea. "Oh god. Woah. Can't believe that was asked!! 🫖 🫖 Theo is a gem though," one fan replied. Another commented, "Why [do] I believe this."
ICYMI, on-set romance rumors started on Dec. 1, 2022, when DeuxMoi claimed that Fahy and Woodall went on their own vacation together after The White Lotus Season 2 wrapped. Per the Deux/U podcast, an anonymous (and unverified) source claimed, "Meghann and Leo 1000 per cent. Tons of witnesses. Not a whole lot of secrecy behind this pairing." Their flirty IG comments and sweet selfies only added to the speculation. (In the episode, DeuxMoi also mentioned the hookup rumors surrounding Haley Lu Richardson and Adam DiMarco. An insider claimed those rumors were "just deduction," since Richardson and DiMarco were "always together" hanging out.)
Still, if this interview is anything to go by, there won't be any confirmation on those dating rumors anytime soon — at least not from Fahy.