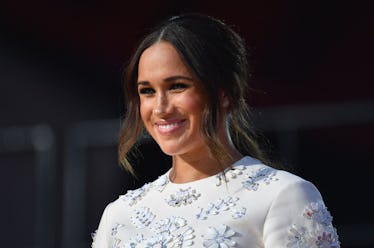 Meghan Shared Adorable Audition Stories In A Surprise Interview With Ellen
You guys, she used to drive a Ford Explorer Sport.
ANGELA WEISS/AFP/Getty Images
Surprise! On Thursday, Nov. 18, Meghan Markle will make her debut appearance on The Ellen DeGeneres Show. Fans got a sneak peek of her interview with DeGeneres in a Nov. 17 YouTube video. The 90-second preview showed the Duchess of Sussex reminiscing about her days as an aspiring actor before she met Prince Harry, and what she had to say will blow your mind.
During the clip, Markle revealed that she had actually been to the Warner Bros. lot (where The Ellen DeGeneres Show is taped) several times to audition for various projects when she was just starting out her acting career. "The security guards would always say, 'Break a leg! We hope you get it!' So the drive in today was very different," Markle recalled. The Duchess also said back in the day, she would drive an old Ford Explorer Sport that had a "life of its own."
"At a certain point the key stopped working on the driver's side so you couldn't get yourself in through the door," she said. "So after auditions, I'd park at the back of the parking lot and I'd open the trunk and climb in and pull it shut behind me and climb in over all my seats to get out. That's how I would come to and fro."
DeGeneres asked if anyone ever saw her do this, and Markle said she would just "play it off" by pretending to look for things in her car. "I'd be like, 'Oh, just looking for my resume and my highlighters for my script. Oh, maybe it's back there!'" she said.
Watch Markle talk about her acting days in the clip below.
After being friends for years, Markle and DeGeneres became neighbors when the Duke and Duchess of Sussex reportedly purchased their Montecito home in June 2020.
Fans can watch Markle's full interview on The Ellen DeGeneres Show, which is currently on its final season, on Nov. 17.