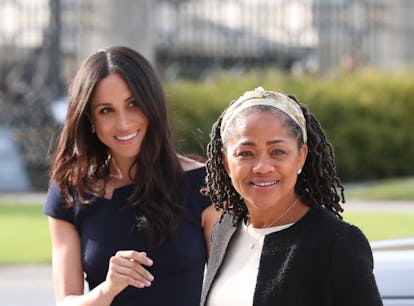 9 Photos Of Meghan And Doria That Are Total Mother-Daughter Goals
Can I be Doria's daughter, too?
WPA Pool/Getty Images Entertainment/Getty Images
Meghan Markle has had so much drama with her dad splashed across headlines that it's often overshadowed the wonderful relationship she shares with her mother. Doria Ragland gave birth to Meghan on Aug. 4, 1981, and, at the time, was blissfully unaware her daughter would grow up to be one of the most notable public figures in the world. Despite Meghan's stardom as an actress and a royal, their special mother-daughter relationship has withstood the test of time, fame, and public scrutiny. These photos of Meghan Markle and Doria Ragland mirror the strength of their relationship.
Meghan has always been candid about her humble beginnings growing up in Los Angeles. Her mother worked as a clinical therapist and yoga instructor, so her childhood was very normal and far removed from the glamorous industry she entered into as an actress. As she wrote in her now-defunct blog The Tig in 2016 that her kind disposition can be attributed to her upbringing.
"Buying turkeys for homeless shelters at Thanksgiving, delivering meals to patients in hospice care, donating any spare change in their pocket to those asking for it and performing quiet acts of grace — be it a hug, a smile, or a pat on the back to show ones in need that they would be alright. This is what I grew up seeing," Meghan wrote.
Meghan's life has changed drastically since then, but the loving relationship she shares with her mom remains a constant in her life. These photos of the mother-daughter duo are so sweet.