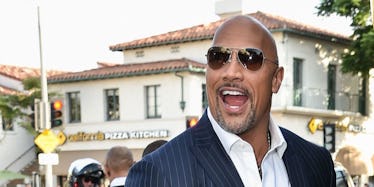 You Can Have The Chance To Meet The Rock If You Do This One Thing
REX/Shutterstock
If I can actually meet Dwayne "The Rock" Johnson, I just might have to enter his new contest. Like Eminem said, "If you had one shot, or one opportunity, to seize everything you ever wanted... would you capture it, or just let it slip?"
I (and all you super fans of The Rock out there) have the chance to seize everything we've ever wanted and meet the legend himself if we all submit wrestling promo videos to The Rock's Rock The Promo contest.
The video at the top basically explains what the contest is, but The Rock posted the same video on his Instagram and explained in his own beautiful words what you need to do.
The Rock wrote,
You ain't ready for this level of FUN.. FINALLY...#RockThePromo has arrived! A weekly competition series that's featured on our new YouTube channel. It's YOUR turn to deliver the greatest wrestling promo of all time. Take that epic tongue lashing you've been practicing in front of your bathroom mirror, record it, then send it to me at www.rockthepromo.com (LINK IN MY BIO). You have the once in a lifetime opportunity to be featured on our new YouTube channel and judged by some of of the greatest wrestling legends of all time - including myself. Now dust off the mic and get to it you candy ass jabroni!
Apparently, Rock The Promo is a video contest where participants invent a wrestling persona and submit a 45-second video in character to the contest's official website.
If you are a finalist at the end of the contest, you get to meet the man himself and other wrestling superstars, but that's only if your video beats those of your competitors in a tournament-style elimination contest to be shown on The Rock's YouTube channel.
The official website described in a little more detail exactly what happens after you submit your video to the competition, saying,
The series will be structured as a 32-contestant bracket and will air on The Rock's YouTube channel. Those who beat their opponent will move on to the next round where they will create another short promo to use in another head to head match.
So if the judges like your video, you make the round of 32 and will be featured on The Rock's YouTube channel. Then, it seems your video goes head to head against another person's wrestling promo video.
If your video wins, to continue advancing, you must create another video for another head to head and so on and so on.
Once the number of contestants is whittled down to two people, those two finalists will fly out to somehow compete in front of The Rock himself (all accommodations paid for). The winner will apparently receive a Rock The Promo championship belt, worth about $2,000, according to the contest's website.
The deadline for submitting the video is July 13 at 11:59 Pacific Time, and the website reminds participants the videos are not to feature any bullying or any stunts or violence of any kind, so you'll have to actually get creative.
According to the full contest rules, make sure your video is unlisted, so only people with the actual link can find it.
Best of luck to all the participants, not that you'll need it because The Caffeinator (that's my wrestling identity, get it?) is taking that belt home.
Citations: Want to Hang out With The Rock? Get Out Your Video Camera! (PEOPLE)