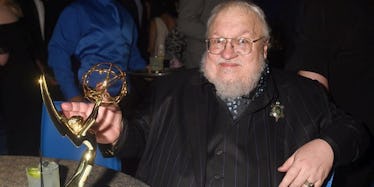 George R.R. Martin Reveals He's Not Done With 'Winds of Winter' & We're Losing Hope
Jeff Kravitz/GETTY
Game of Thrones Season 7 is only days away. That means it's that natural time of year when book readers turn back to George R.R. Martin's NotABlog in hopes of an update on the always-forthcoming next novel in the A Song of Ice and Fire series, The Winds of Winter.
This year is an extra special year as well. As fans will remember, A Dance With Dragons, the novel prior to this one, was announced in conjunction with Game of Thrones Season 1 and arrived a few weeks after it ended.
This year, according to calculations done by hardcore fans, would be about the point when Martin would finish The Winds of Winter if he kept pace with his earlier writing.
See the chart below:
Note, as the chart above states, Martin is actually kept himself on pace with J.K. Rowling, on a page for page basis. This means those who have been asking for the next book for the past five years have been killing Starks needlessly -- Martin was never going to be done before this year.
But sadly, right now, it looks like he won't be done this year either.
Martin posted on his NotABlog recently:
And yes, before someone asks, I AM STILL WORKING ON WINDS OF WINTER and will continue working on it until it's done. I will confess, I do wish I could clone myself, or find a way to squeeze more hours into the day, or a way to go without sleep. But this is what it is, so I keep on juggling. WINDS OF WINTER, five successor shows, FIRE AND BLOOD (that's the GRRMarillion, remember?), four new Wild Cards books, some things I can't tell you about yet... it's a good thing I love my work.
Don't despair quite yet though, friends! It's only July. We've still got six more months for Martin to announce the novel is coming and prove he's kept pace properly. But after that...
Well, how many more Starks does he have left to kill anyway?
Game of Thrones starts Sunday, July 16 on HBO at 9 p.m. ET.