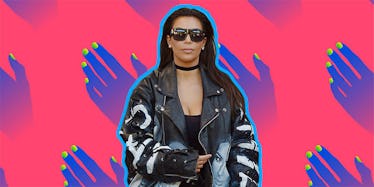 Another Celebrity Is Throwing Major Shade At The Kardashians
REX/Shutterstock
Mariah Carey is trying her best to keep up with the Kardashians, and she's not afraid to throw some shade along the way.
Back in March, the 46-year-old pop star announced her new show, "Mariah's World," an eight-part reality series to air on E! in the fall.
Recently, Mariah sat down with Complex magazine to talk about the show, which will cover all the behind-the-scenes footage from her tour to her wedding.
Mariah wasted no time assuring readers her show was going to be much classier than any Kardashian show.
It just so happened during the interview with Complex, the Kardashians were right down the hall filming in a private room, only 15 yards away.
Here's how it went down, according to the interviewer,
'Some of us,' Carey says, casting a glance toward the room, 'talk about other people and what they do and la la la. But I'm not that person.'
I truly cannot think of a better way to prove you don't talk about people behind their backs than to talk about the people who do behind THEIR backs.
Like, the Kardashians' backs were 15 yards away. Mariah Carey was literally talking right behind their backs... to an interviewer.
Oh, Mariah Carey. Please never change.
Citations: Mariah Carey Just Threw Some Epic Shade at the Kardashians (Cosmopolitan)