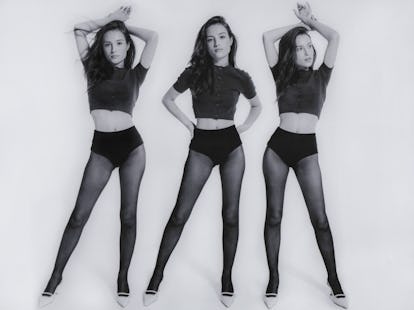 Madeline Argy's Still Waiting For Her "Oh, Sh*t" Moment
On the heels of her new podcast Pretty Lonesome, the creator tries to make sense of her internet fame — and DJs.
Photographs by Hannah Sider
Madeline Argy is extremely 23. She arrives at the Elite Daily office holding only three things: her phone, her vape, and her hotel key card. It's 90 degrees in early September, but she's wearing gray sweats. In July, the creator signed on to create a podcast, Pretty Lonesome, with Alex Cooper's highly-anticipated Unwell network. Still, she has that uniquely post-grad aura, a mix of optimism and terror that betrays her age. "I'm still fresh out of uni," she says. "I'm in that weird phase after you graduate of questioning, 'What am I doing now?'"
Argy is in the middle of her first-ever New York Fashion Week, but she's spending her Friday in an office, away from the crowds. It's a long day for the 23-year-old: one interview, a fitting, two glam seshes, and two photo shoots. But she doesn't balk at the schedule. Her only request is a glass of water. "A lot of the time, in between fashion weeks and filming a three-minute TikTok, you don't do a whole lot," Argy says.
She lives with her mom about two hours outside of London, though she plans to move to the city soon. In the U.K., Argy doesn't indulge in the influencer scene often, but she feels differently in New York. "There's so much going on. It's hard to want to stay in your room. I do not feel that in London. I'm happy to stay home."
As a homebody, she likes having obligations. Since graduating from the University of Kent in 2022, Argy has missed the structure that school offers. Pretty Lonesome, which launched on Oct. 2, is a balm for that post-grad discomfort. "The podcast is kind of like a deadline, so it's soothing," she says. "It's something to stress me out. It's a little bit of purpose." When we talk, the show's release is a little over three weeks away. Still, she hasn't had that "Oh, sh*t" moment of coming to terms with this next chapter. "It hasn't hit me at all," she says. "It won't until the first episode is out, and I can actually see a response. Otherwise, it's imaginary."
I'm just not going to create an environment where a boy is all people talk about when they see me. That's genuinely a living nightmare.
Considering the timeline of Argy's success, her wide-eyed skepticism isn't hard to believe. Argy started posting on TikTok in March 2021 and went viral soon after that (a video where she talked about growing out her bush to meet the queen). She brought on a team of her own at the end of 2022. (She jokes that they're her "minions," a quip that only lands because it's so obviously the opposite of how she feels.) Then, in late May, Argy got a brief, ambiguous call about potentially joining Cooper's Unwell.
At the time, Argy didn't want to get her hopes up. "I hung up the phone, not thinking much of it," she recalls. "It was so exciting to know that [Cooper] was thinking of me. But I was like, 'That is so far beyond the realm of possibility.'" But soon after, she was flying to Los Angeles to meet Cooper in person. By July, they were trading paperwork, preparing to make the podcast happen. Unwell launched publicly Aug. 8.
Growing up, Argy wasn't too interested in content creation beyond watching the Shaytards' (a Mormon family's) vlogs or tuning into Amanda Steele's YouTube. "[Steele] would do the all-American girl morning routine at 13," she says. "I was literally gagged. I was so obsessed that I made my mom buy me the same bed sheets as her. I switched my double bed out for a single bed because that's what she had." Is it weird to know that people might feel that way toward Argy now? "God, I hope they don't," she says.
Argy began using TikTok for the most relatable reasons: she had a crush on a creator. She quickly realized that her crush only replied to comments from people with followings — that's why she decided to build one for herself. "I had to get her attention. I had to."
The strategy paid off in more ways than one. She eventually met her IRL, which quickly cured the infatuation. "We hung out one day, and I was like, 'Nevermind,'" she says. Her crush extinguished, Argy continued to post on TikTok, carving out a cozy niche for herself in the app's algorithm where creators tend to jump from trend to trend.
Though most of her family doesn't really understand what TikTok fame means, Argy says her mom has been supportive. "I was a very strange child, so she's just had to go with the flow my whole life, bless her," Argy says. "In comparison to some other things, this" — becoming an internet celebrity on the cusp of morphing into a celebrity-celebrity — "is quite minor."
Only two and a half years after joining TikTok, Argy has 4.8 million followers and 239.4 million likes on the app, plus 1.8 million followers on Instagram and 389,000 subscribers on YouTube. She's one of the first names Cooper secured for the launch of Unwell. Argy's in good company; TikTok megastar Alix Earle is also part of the Unwell family. So, maybe this next phase is not so "minor."
Argy sums up her relationship with Cooper as "fatherly," adding that the Call Her Daddy host offers a boatload of advice. "There will be something I'm so unsure about, and in one sentence, she's cleared the whole thing up and made me feel at peace," she says. "It's kind of freaky how smart she is."
Argy is less off-the-cuff when she's talking about herself, as if she hasn't had much practice — ironic, since she's so open online (her Instagram bio is literally "Show and tell"). "When I'm in a conversation, I don't know what to say," Argy says. "When I'm alone, my brain does something different and my thoughts come out." She might not feel at ease in dialogue, yet conversing with her is like listening to a meditation app, one with a posh British accent.
While her TikTok page is filled with intimate confessions, she doesn't find her content to be particularly aspirational. She's talked about struggling with depression, recalled a difficult phase when she peed in period pads instead of going to the bathroom, and that time she "sh*t on a Tinder date's floor. Those aren't easy things to be known for, but Argy shrugs off the idea of regrets. A few seconds later, she concedes, "Maybe I regret sharing some of the TMI stuff, but nothing I've ever done in my personal life has made me a bad person… Some of it's embarrassing and overly personal, but none of it was ever wrong. So what's the worst that can happen?"
As she prepares for her new podcast, Argy's been revisiting her older content. Some of it is long gone: you won't find her early TikToks anywhere — they're archived. But her YouTube channel is still up for anyone to watch. At the time, she filmed videos from the comfort of her duct taped-together 1996 car, with a Starbucks cup (usually containing a criminal combination of matcha, vanilla syrup, and espresso) in-frame. There, she had longer discussions about sexuality, confidence, and relationships.
Dude, I think every DJ in America DMed me, trying to defend themselves.
For Argy, these conversations are still ongoing — and they'll likely find a new home on Pretty Lonesome. "I have new thoughts, and I'm probably a bit better at articulating them now that I've had more time to sit with them," she says of her old videos, many of which were posted on YouTube in 2022. "My life is a little bit different than it was a year ago, and my perspective has definitely shifted."
In particular, Argy's take on romantic relationships has changed over the past year. "I've definitely developed some thoughts, some lessons," says Argy, who doesn't label her sexuality. One of those lessons? "Don't do it" — "it" being relationships in general. She doesn't mention anyone's name in her warning, but the internet had already investigated her breakup with British rapper Central Cee after the two unfollowed each other on Instagram weeks before she confirmed the split on Call Her Daddy on Sept. 27. According to Argy, she was the one who called off their two-year "entanglement," no matter what the internet says. "Their immediate response is [thinking] I got dumped," she told Cooper about their breakup. "I made the final call."
Argy went public with the 25-year-old rapper in September 2022 when she posted a tongue-in-cheek TikTok with him. She says it was their "peace offering" to curious fans already speculating about the pair, but she tried not to acknowledge the romance again. "My relationship was going to be private, and that was that," she says. It's a choice she stands by, even after the fact. "I'm just not going to create an environment where a boy is all people talk about when they see me. That's genuinely a living nightmare."
Watching Argy's videos, you wouldn't think she made a habit out of setting boundaries with her fans. But she does have a few barometers to assess whether content is OK to post: First, if she feels physically uncomfortable speaking about a topic, it's cut. Second, she asks herself, "If my therapist watched this video, would I want to discuss it with him?"
Otherwise, she gives herself free rein, often browsing through her comments to see what people think. As her follower count climbs, she's starting to realize that she exists on the internet for real people to watch whenever and wherever they want. "It's a spiritually strange thing," she says. "Surely, there's some kind of energy you receive from" — her voice trails off — "the fact that at any moment, your voice could be playing in someone's bedroom."
As we talk, Argy doesn't share a lot of strong opinions. She's constantly practicing diplomacy, instinctually making amendments to acknowledge another perspective. She finds the influencer scene to be "draining" but understands its appeal. (A TikTok from the Unwell after-party proves her point — in it, Cooper and Earle are focused on popping a bottle of champagne, seeming to debate the merits of drinking it themselves or spraying the bubbly over the crowd. Meanwhile, Madeline is in the corner, eating pizza.) If she squints, she can see the Emma Chamberlain comparison but doesn't put herself in that league. She avoids thinking about the future, but has a few dream brands she wants to work with.
However, there's one controversial opinion Argy's willing to argue during our interview: She still doesn't understand DJs. In July, a video of her questioning the profession went viral. "What the f*ck do DJs actually do?" she asked her followers, eyes watering. (The TikTok now has 5.4 million likes.) Even now, she maintains that the profession is "suspicious." It doesn't matter how many DJs have reached out. "Dude, I think every DJ in America DMed me, trying to defend themselves," she says, citing Diplo as one of the bigger names. Despite all the messages, stitches, and concerts responding to her video (Loud Luxury played a remix of it onstage), Argy still isn't convinced. "How do they make the strobe lights go with the music if they're mixing on the spot? That's how I know they're lying," she says, as though she's Nancy Drew solving a mystery. Argy did go to school for forensic linguistics, after all.
As the glam team wraps up their finishing touches, Argy has shed any lingering nervousness. She starts posing for the photographer, and her friend asks if they should put "Viva La Vida" by Coldplay on aux. The 2008 single is her favorite song at the moment — something her followers have noticed. "Someone in my DMs found my Spotify and messaged me, 'All you f*cking listen to is "Viva La Vida" by Coldplay,'" she laughs, and her "minions" join in. "I'm like, 'You are not supposed to see that.'"
Then again, she knows that she no longer has control over what people see of her. Somewhere, someone is probably in their room, watching Madeline Argy's videos for the first time.
Top Image Credits: JoosTricot top, Calle Del Mar underwear, Calzedonia tights, Larroudé Shoes
Photographs by Hannah Sider
Styling by Stephanie Sanchez
Hair: Clay Nielsen
Makeup: Ashley Webb
Photo Director: Alex Pollack
Editor in Chief: Charlotte Owen
SVP Fashion: Tiffany Reid
SVP Creative: Karen Hibbert