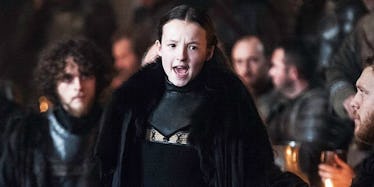 Pics Of Lyanna Mormont Back On The 'Game Of Thrones' Set Will Get You Pumped
HBO
You know it's a good day when you get to see a shirtless Joe Jonas and write about "Game of Thrones."
On season six of "Game of Thrones," the entire world fell in love with one of the fiercest characters in Westeros. No, I'm not talking about the new King in the North, I'm talking about the young lady who had a huge hand in putting him there, Lyanna Mormont.
Lady Lyanna Mormont, Lord of Bear Island, first made her way into our hearts in June, when she made her debut on "GoT." Since then, the 10-year-old badass has become something of a cult figure in the "Game of Thrones" community.
Though she didn't appear on screen until season six, we first heard about Lyanna Mormont in season five, when she sent a raven to Stannis Baratheon asserting Bear Island's loyalty to House Stark.
Following her emergence as one of the best characters on "Game of Thrones" last season, there was only one question remaining on everyone's mind: Would Lyanna Mormont be back for season seven?
YES, BITCHES! YES!
Check out these awesome photos of Bella Ramsey, who plays Lyanna Mormont, on the set of season seven of "Game of Thrones."
Look how excited she is coming out of her trailer! This makes me happier than it probably should, but hey, who are you to judge me?
Sure, season seven of "GoT" isn't slated to begin until next summer, and winter is coming, but just knowing Lyanna Mormont is going to have a part to play in the penultimate season of the hit HBO show is enough to keep me warm in the coming months.
Who needs a down winter coat when you can stay warm with the fact the baddest bitch in the Seven Kingdoms is coming back for more?
The night may be dark and full of terrors, but Lady Mormont is here to light the way, baby!
Citations: Lyanna Mormont Confirmed to Return for 'Game of Thrones' Season 7 (High Snobiety)