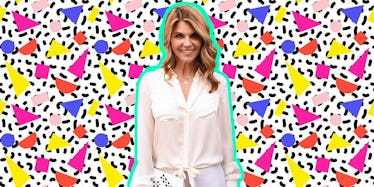 Lori Loughlin Is Not Actually A Real Human Being, And Here's Proof
REX/ Shutterstock
For those of you planning on wishing Lori Loughlin a happy birthday, you may want to keep your distance as she's most likely an immortal succubus.
A quick Google search will tell you today is Lori's 52nd birthday, but her face tells a different story entirely.
Though she's been in the biz since the '70s, Lori gained nationwide recognition for her role as Becky Donaldson on "Full House."
When the show's run began in 1987, Lori was just 23 years old. Though, at that point, there's a chance she'd already been here on earth for centuries, using her beauty and sexual prowess to weaken and eventually kill mortal men.
Nearly a decade after "Full House" ended, Lori joined the cast of the WB series "Summerland" and she still hadn't physically aged.
Eternal youth is not a normal physiological phenomenon for human beings, though it is common of immortal succubi.
Lori's next major gig, this time on "90210," acted as an important point of reference. For what? Honestly, nothing. How could it be? She still hadn't aged.
Succubi are known to prey on men in their sleep, which can be tough to balance for one who is also expected to promptly arrive for early call times on a network teen drama.
Come 2014, Lori was allegedly 50 years old. Yet, her Hallmark Channel show, "When Calls the Heart," starred the same face as '87 episodes of "Full House."
It's like the word "science" doesn't even mean anything.
It's 2016. "Fuller House" is streaming on Netflix and nothing makes sense anymore.
BE GONE FROM THIS MORTAL PLANE, SHE BEAST!
But also, like, happy birthday.