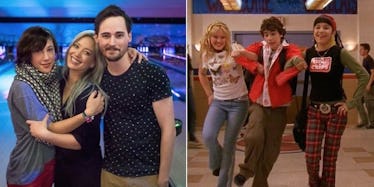 Everyone Is Freaking Out Over This 'Lizzie McGuire' Mini Reunion (Photo)
Yesterday, we told you Hilary Duff, aka Lizzie McGuire, had joined Tinder.
Duff actually went on a Tinder date to a bowling alley and brought some friends along for moral support.
It just so happens those friends were some of her former castmates from Disney Channel's "Lizzie McGuire."
Duff brought along Jake Thomas and Lalaine Vergara-Paras to go bowling with her and her date.
Thomas, as I'm sure you recall, played Lizzie's younger brother Matt. Vergara-Paras played Lizzie's bestie, Miranda. My only question is: Where was Gordo?
All in all, it's been a pretty great week for Hilary Duff news.
Check out the photo of the mini-reunion below.
Citations: This Lizzie McGuire Cast Reunion Is What Dreams Are Made Of (Huffington post)