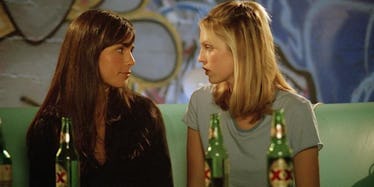 8 LGBTQ+ Movies To Watch That Prove Queer Stories Are Universal
Screen Gems
There were so many queer movies this past year. From "Carol" and "The Danish Girl" to "Tangerine," LGBTQ stories — especially stories about LGBTQ+ women — have had a good year. We can sit here and complain about "Carol" getting snubbed at the Oscars (because it was totally snubbed), but overall, having this many prominent LGBTQ+ films in one year is a pretty big deal.
Now, you might be saying to yourself, "Yeah, well, there are more queer movies coming out now because it's 2016." But you know what? There have been hundreds of awesome gay films, and many of them happened before "Brokeback Mountain" in 2005.
Excited about this new queer world? You should be. But, what should you watch?
Yes, you could test your luck, but we have our own system that's based on what you loved in movies this year. So, Netflix and chill with our best.
1. If you liked "Trainwreck":
You will laugh along with "Adam & Steve" (2005). Don't you love watching a couple as dysfunctional as you and bae are? It's weird.
It's funny, and it's all about finding love in New York City. While many comedies make fun of gay people, this comedy makes gay jokes awesome.
2. If you loved "Brooklyn":
You will have all the feels for "Parting Glances" (1986). If you love movies with that perfect mix of hearts and heartbreak, great performances, themes of isolation and, of course, the city of New York, "Parting Glances" is as good as you will get.
Also, it has a young Steve Buscemi, which is pretty much like seeing a baby pigeon. You know they must exist, but it also feels like a rare find.
3. If you thought "Trumbo" was snubbed:
You need to watch "Gods and Monsters" (1998). It's a brilliant, but tortured true-life Hollywood type.
"Gods and Monsters" fictionalizes the real life director of horror classics like "Frankenstein," James Whale, who is a gay man Hollywood chose to forget.
What makes this film even better? Ian McKellen plays the main character. He almost won an Oscar for the performance, which would have made the whole Sam Smith thing even more embarrassing.
While an openly gay man hasn't won the Oscar for Best Actor, queer women have. If you are sick of not getting enough stories of queer women and loved "Trumbo" and "Gods and Monsters," check out "Go Fish" (1994). It is just as amazing and features amazing women.
4. If you needed "Spy" in your life:
"D.E.B.S.: (2003) is for you. It's campy, it's silly, it is female driven and it has a surprising amount of action. If you needed anymore reason to stream this ASAP, it has super hot girls kicking ass in Catholic school outfits. Need I say more, ladies?
5. If you went insane over "Mad Max: Fury Road":
It's high art, it's Australian, it's a road movie and it probably should have won an award for its brilliant makeup. Yes, it is about drag queens. Yes, the tone is pretty different. But, "The Adventures of Priscilla, Queen of the Desert" (1994) is a classic.
It might not be a hardcore action film, but it does have that amazing desert cinematography. Who wouldn't want to get lost in all that beauty? (Young Guy Pearce isn't bad, either.)
6. If you thought #OscarsSoWhite:
Yeah, a lot of queer films can be a little bit too white as well. However, some of the best LGBTQ+ documentaries documentaries have always centered around the intersectional lives of queer people of color, like "Paris is Burning" (1990) and "Tongues Untied" (1989). But, if you aren't looking for a documentary, "Pariah" (2011) is one of those perfect hidden gems.
7. If you liked "Ricky and the Flash":
Granted, most people didn't like "Ricky and the Flash." But every year, there is a film that comes out that tries to blend heart and distress while centering around a family and the connection between child and parent. Some are great, and some are not so great.
"La Mission" (2009) is perfect for the genre. It is diverse, immersive and beautiful.
8. If you loved season two of "Transparent":
OK, that's not a movie. You are right, but if you like it, you need to see "All About My Mother" (1999). Much like "Tangerine," this is a movie about the trans experience that is sensitive, funny and focused on women.
These are just a few, and there are so many others out there. Happy binge-watching.