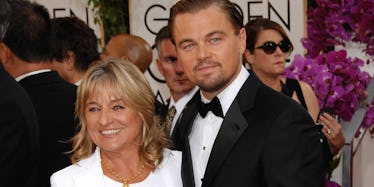 Leonardo DiCaprio Just Did The Most Adorable Thing For His Mom
Shutterstock
Anyone who assumes Leonardo DiCaprio has never loved a woman over the age of 25 hasn't seen the Oscar winner out on the town with his number one lady, Irmelin Indenbirken, whom he recently took to the Heart Fund's Generous People Dinner Gala (a title fundraisers clearly labored over extensively) in Cannes, France.
Leo's mom, Irmelin, has accompanied her son to countless award shows and continues to reap the benefits of raising an accomplished entertainer.
At the Heart Fund's gala, "The Revenant" star bid $18,100 for a Chanel bag that, due to his generosity, went home on Irmelin's arm along with a $5,650 Inna Zobova scarf.
This isn't the first time Leonardo DiCaprio dropped serious change on a bag for his mom.
At last year's gala, the actor reportedly outbid the Dr. Frankenstein of Kardashian mania, Paris Hilton, for an $11,300 Chanel purse intended for momma Irm.
Sorry, barely-legal models, Leo might treat you well, but he always has and always will treat Irmelin best.
After all, they go way back...
...as in, alllllll the way back.
Damn, it feels good to be Irmelin.
Citations: Leonardo DiCaprio Just Did the Sweetest Thing for His Mom (Cosmopolitan), Leonardo DiCaprio drops $18,000 on Chanel bag for mom (Page Six), Mama's boy: DiCaprio outbids Paris Hilton for $11K purse (Page Six)