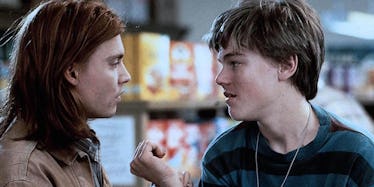 5 Underrated Leonardo DiCaprio Movies To Watch Before The Oscars
Paramount Pictures
First off, if you have not yet seen "The Revenant," the mesmerizing, beautifully shot and utterly powerful film that just won Leo his third Golden Globe, do yourself a tremendous favor and do so immediately.
Seriously. Go now and just come back to this article later. I can wait.
Leo has been my favorite actor for years.
He is an incredible performer, who truly gives his all to each and every role.
He consistently displays a sincere dedication to his craft by only choosing the project he truly believes in, as he knows all too well the powerful impact film has.
Furthermore, amidst what is often considered an egocentric industry, it is always beautiful to see Leo actively speak up for pivotal causes, notably his passion for the environment.
And, as his recent acceptance speech proved, the importance of respecting and remembering the rich history of Native Americans.
It is always an honor to watch him act, but what frustrates me is how underrated many of his films (and performances) are.
Yes, "Inception," "Wolf of Wall Street" and "Titanic" are great, iconic films worth seeing, but there is so much more to Leo than Jack Dawson or Dom Cobb.
Here is a reminder of just a few Leo films you absolutely must watch (or watch again).
1. "The Aviator" (2004)
Leo received his second Oscar nomination for this engrossing biopic that forever guaranteed Leo his spot as my favorite actor.
Directed by Martin Scorsese (back when his only previous collaboration with Leo was "Gangs of New York"), Leo stars as the legendary entrepreneur, filmmaker and aviator Howard Hughes.
Complemented by memorable performances like Cate Blanchett's Oscar-winning turn as the iconic actress Katharine Hepburn and the lovable Alan Alda as Hughes' antagonist, Leo truly shines in what is one of his best roles to date.
2. "What's Eating Gilbert Grape" (1993)
Johnny Depp may be this film's star, but it's Leo who steals the show.
Proving his talent even in his teens, Leo gives a heartwarming, powerful performance as a young boy with a developmental disability (Depp's younger brother in the film).
Leo and Depp have great chemistry as brothers and Leo more than earns his first Oscar nomination here—to this day, many still argue he should have won for this.
3. "Catch Me If You Can" (2002)
Compared to many of the hard-hitting dramas Leo is often most known for, "Catch Me If You Can" is certainly, comparably light-hearted.
This is one of the reasons I love it.
Directed by Steven Spielberg, Leo stars as real-life con man Frank Abagnale, Jr. He's a man known for conning millions of dollars worth of checks before his 19th birthday.
Tom Hanks stars opposite Leo as the FBI agent chasing Frank and his many aliases. (Fans of "The Flash" will be happy to know these aliases include Barry Allen.)
The all-star cast also includes Amy Adams, Christopher Walken and Martin Sheen. It's a fun film well worth a watch (or five).
4. "Revolutionary Road" (2008)
Think of this film as the anti-"Titanic"; or, at least, think of it as an alternate reality in which Jack and Rose end up together but are far from a happily ever after.
Leo reunites with Kate Winslet for this Sam Mendes-directed drama, based on the novel of the same name.
Leo and Kate star as a married couple in the mid-1950s, who struggle to find happiness in their suburban lives.
They must deal with unexpected problems, longings, revelations and setbacks.
Leo and Kate are two of the best in the business; this is worth watching, if only to see them together again.
5. "Shutter Island" (2010)
Arguably one of Scorsese's most overlooked films in recent years, Leo stars as Teddy Daniels, a US Marshal investigating a disappearance of an escapee from an island hospital for the criminally insane where, as you may guessed, nothing is quite as it seems.
A psychological thrill ride also starring Ben Kingsley and Mark Ruffalo, this film serves as a prime example of just how excellent Leo is at truly delving into a character's psyche and inner demons.
There's a good chance Leo may win his first Oscar award this February, so be sure to check out these films before then to remind you how excellent of an actor he truly is.