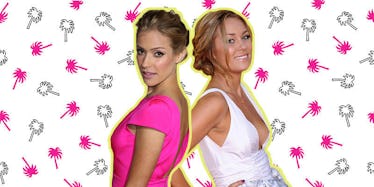 'Laguna Beach' Is Coming Back To TV And We Can't Handle It
SHUTTERSTOCK
As a middle schooler, there were only a few things that really mattered to me:
My Von Dutch trucker hat
The rollercoaster of emotions I felt for Sirius Black in "Harry Potter and The Prisoner Of Azkaban"
Knowing how to properly dance to "1, 2 Step" by Ciara
Figuring out which side to be on in the "Laguna Beach" Kristin/LC showdowns 
Since 2004, I have lost said trucker hat, grieve daily over the loss of Sirius (spoiler, sorry) and rip up every dance floor I walk onto with my steppin' skills. However, the hole in my heart left by "Laguna Beach" continues to fester.
My hopes for a reunion skyrocketed when I caught wind of the 10-year anniversary special for "The Hills." I'm not really sure why I got excited, though, since it was explicitly labeled a "The Hills" reunion... whatever. 
HOWEVER, the heroes at MTV clearly heard me loudly sighing in disappointment and made a huge, wonderful, beautiful, presumably Hilary Duff-inspired announcement : Starting Monday, August 1, the VH1 Classic network will become the MTV Classic network and will feature all our favorite shows from the early 2000s.
Yes, you read that right. Ya betches and boiz from Orange County WILL BE BACK ON TELEVISION. The people. The location. The drama. IT'S ALL COMING BACK TO OUR SCREENS.
The channel will also play TV gold like "Daria," "Wonder Showzen," "MTV Cribs," "The Real World" "Beavis and Butt-head" and "Clone High."
So, my fellow Millennials, let's go back, back to the beginning, back to when the earth, the sun, the stars all aligned.
Have a great rest of your Throwback Thursday and if anyone knows where I can get a new Von Dutch hat, HMU.