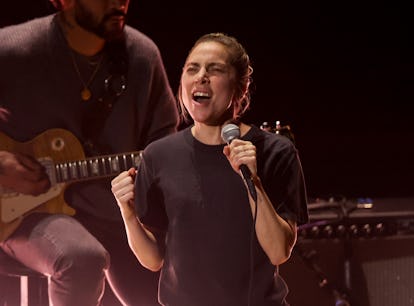 Twitter Has Questions About Gaga's Super Casual Oscars Performance 'Fit
"Hold My Hand" and those close-ups took everyone by surprise.
Rich Polk/Variety/Getty Images
The Oscars are known for being the epitome of expensive, sparkly glamour, but Lady Gaga has never been one to go with the status quo. When she took to the stage at the 2023 Oscars to perform her Top Gun: Maverick power ballad "Hold My Hand," she shifted the vibe of the entire night with almost nonexistent makeup, a grey T-shirt, and ripped jeans. The spotlight was on her hugely emotional performance, but for most fans on social media, her bold anti-glam look is what made the moment an instant classic Gaga stunt.
So much about Gaga's Oscars performance was a surprise. It was confirmed only hours before the ceremony that she'd be taking the stage, and when she did appear, it was without the usual introduction. Instead of a presenter welcoming Gaga to the stage, the camera suddenly panned to her sitting on a stool in minimal makeup, tattered jeans, and a crewneck t-shirt. Before diving into "Hold My Hand," she highlighted how personal the song was for her.
"I wrote this song with my friend Bloodpop for the film Top Gun: Maverick in my studio basement," Gaga said. "It's deeply personal for me, and I think that we all need each other. We need a lot of love to walk through this life, and we all need a hero sometimes. There's heroes all around us in unassuming places, but you might find that you can be your own hero, even if you feel broken inside."
Immediately, Twitter users were obsessed with Gaga's mix of drama and her low-key, stripped-down energy.
Most surprising was the fact that Gaga was just wearing full glam in a sheer Versace gown at the start of Oscars night.
Fans couldn't stop marveling at how she removed that full face of makeup so quickly.
The performance also had some very interesting cinematography. The whole thing was filmed in extreme close-ups on Gaga's face, which made it much more intimate, but also confused some viewers.
And while a T-shirt and jeans isn't exactly what you'd expect to see on Oscars night, Gaga broke the mold once again by doing away with the glitz and glam to put all the focus on her vocals.
Yes, most of Gaga's memorably iconic fashion moments are super extravagant and over-the-top, but with this "Hold My Hand" performance, she proved that she can be just as powerful without all the bells and whistles.