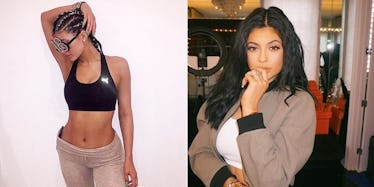 Kylie Jenner Wore Cornrows Again, Despite Being Slammed In The Past
Kylie Jenner's hair changes radically on what feels like a daily basis.
That level of commitment to variety demands the respect -- or maybe just the attention -- of a nation.
The freshly minted adult unveiled her new cornrows via Snapchat this Tuesday.
While it isn't the first time Jenner has done the braided look, much to the chagrin of her critics, her most recent foray into the world of cultural appropriation is unique in its details.
With blonde extensions woven into the braids, perhaps her hairdo begs for some rebranding.
One might call the braids Kornrows (ooh, very catchy) or Cornrows Plus (spread it around, folks).
Fans can get an even better view of Jenner's look in her Snapchat story video.
In the clip, Jenner appears to be next to Pia Mia Perez filming and napping simultaneously.
We've got a multitasker on our hands, America, and she isn't concerned with what anyone thinks about her hair choices.
Citations: Kylie Jenner Brings Back Her Cornrows (PHOTO) (PEOPLE)