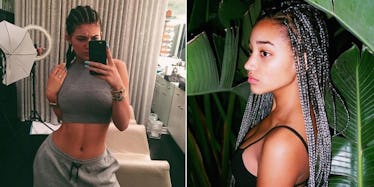 'Hunger Games' Star Responds To Pic Of Kylie Jenner Wearing Cornrows
Amandla Stenberg calling out Kylie Jenner for cultural appropriation is the Millennial version of the Supreme Court debating political correctness.
A picture Kylie posted to Instagram sparked some controversy after Stenberg, who plays Rue in "The Hunger Games," claimed the post was less of a cute morning 'Gram upload and more Kylie dressing up as a way to get some likes.
In the caption, Kylie wrote, "I woke up like disss."
The picture did not sit well with Stenberg, who felt compelled to comment.
Then, Kylie responded the only way one can when accused of racial insensitivity, by lightly defending herself and then making some sort of weird dig at Stenberg's dating history.
She responded by allegedly saying, "Mad if I don't, Mad if I do.... Go hang w Jaden or something."
This argument sits somewhere between a genuine debate on cultural appropriation in modern society and two high school girls debating via Vine posts who loves One Direction more.
This isn't the first time Kylie has been accused of posting racist imagery on her Instagram account.
In April, she uploaded a picture of herself arguably wearing blackface with the caption,
What I wish I looked like all the time thank you.
She then deleted the photo and replaced it with the following image, which said, "This is a black light and neon lights people [let's] all calm down."
Either Kylie is genuinely ignorant about what she's doing, or she's woefully unlucky when it comes to people identifying stuff she posts as technically racist.
Either way, she needs someone checking her pictures before she uploads them.
Citations: Amandla Stenberg Calls Out Kylie Jenner For Cultural Appropriation (Huffington Post)