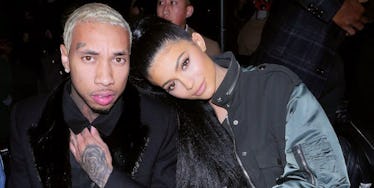 Kylie Jenner's Tyga T-Shirt Face Swap Is The Only Thing You Must See Today
REX/Shutterstock
When Tyga is away, Kylie will play.
While at Coachella, the youngest of the Kardashian-Jenner clan played around on Snapchat and face-swapped with her boyfriend — or at least, a picture of her boyfriend.
Donning a Tyga concert tee, Kylie used the popular app's face-swapping feature to switch mugs with her man, and it's creepy, to say the least.
In typical Kylie fashion, the 18-year-old has been keeping fans apprised of her Coachella goings-on with frequent social media updates, showing off her gorgeous multi-colored braids and generally being a major goof.
She's clearly having a ton of fun -- as she should.
See Kylie's updates below.
Citations: Kylie Jenner's Latest Face Swap Is the Freakiest Thing You'll See All Day (Cosmopolitan)