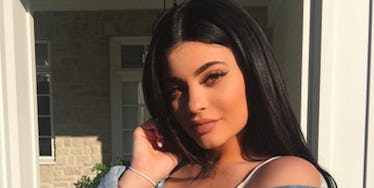 It Looks Like Kylie Jenner Totally Peed Her Pants In These Snapchats
Instagram
Kylie Jenner, are you OK?
The "Keeping Up with the Kardashians" star had an ~accident~ last night, and the entire thing was documented on Snapchat.
The 18-year-old posted a video showing her booty to the camera, except her jeans were totally wet. Not gonna lie, it kind of looked like she peed in her pants. WHAT HAPPENED, KYLIE? DID YOU PISS YOURSELF?
I'm serious, check out some screenshots of the video below.
Poor Kylie. I guess she couldn't make it to the bathroom fast enough!
Yeah, that's pretty bad. Her entire backside is covered. LOLOLOL.
You can watch the full Snapchat video below.
Oh, and there's this one.
All right, here's the truth...
Kylie actually just spilled her drink all over herself. BE MORE CAREFUL NEXT TIME, KYLIE! What a klutz.
Why does this always happen to her?!
It's OK, Kylie, we've all been there.
She also posted this sexy little snap on the same night.
Is it just me or does Kylie spend 90 percent of her time driving around in her car? The other 10 percent is restocking her Lip Kits, prob.
Thanks for always making us laugh, Kylie. Now go do your laundry and clean yo' self.
Citations: Kylie Jenner Peed Pants (Daily Mail)